AutoPi Keyless Entry
Secure your operations with precise localization and secure key management
Remotely and efficiently manage your fleet, with a scalable digital key solution that allows multiple drivers to share any vehicle without physical key handoffs.
Benefits and features
A configurable tool to manage your key management
Lock and unlock remotely
Allow your drivers to open and close any vehicle without physical keys.
Optimized fleet management
Manage and optimize your fleet in a virtual and automated way regardless of your location.
Reduced operating costs
Enhance efficiency and reduce costs without the need for someone in charge of physical keys and booking schedules.
Secure and effective cloud
Manage your fleet completely and directly with our Management Cloud software.
Remote vehicle management
Manage your fleet with a secure, keyless vehicle access platform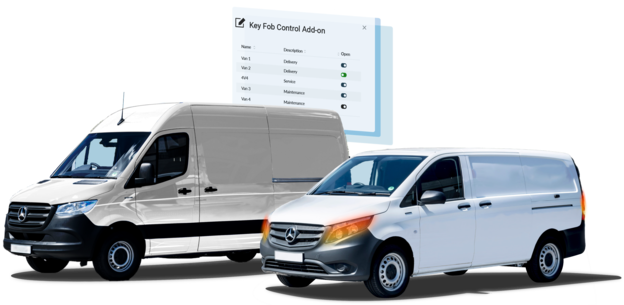 Securely grant and centrally manage access to vehicles
Easily manage your operations with a secure way to administrate and control your fleet remotely. Have your drivers effortlessly gain authentication and digital access to any vehicle through your software, with our easy-to-use API.
Increase efficiency and completely digitalize your management
Reduce the time to complete a task and streamline your processes in a digital administration platform. Prevent any loss of important physical documents and remove the hassle of physical keys.
Manage the "who, where, and how" of vehicle accessibility
Completely control that only the right people in the right places with the right digital keys can access a vehicle. Vehicle doors lock automatically when the driver walks away and unlock when the driver reapproaches the vehicle.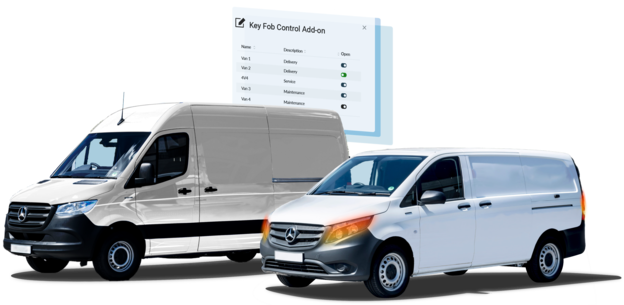 Why AutoPi Keyless Entry?
AutoPi Keyless Entry is a fully customizable tool to deploy and remotely manage your fleet. The keyless entry solution is based on a key fob, which is utilized by preconfigured functionalities, which you can use to get full control over the system and how it should function. E.g., to either activate through API, Bluetooth, RFID, etc. For clients who need leaner management of key inventory, we offer an intuitive keyless system allowing dispatchers to restrict and give access to drivers to specific vehicles.
As a dispatcher, you can remotely grant drivers access to a vehicle or withdraw it instantaneously for a smooth vehicle transition between drivers. With the use of AutoPi Cloud, combined with the AutoPi TMU device, you can take advantage of complete fleet visibility to reduce, repurpose or redistribute assets to increase utilization.
Something unclear?
Frequently asked questions
The keyless entry system allows you to open and close vehicle doors without the use of physical keys. Most modern vehicles are equipped with a basic keyless system that includes a short-range remote transmitter.
Read more
.
Keyless entry into a vehicle is most commonly achieved by transmitting a radio frequency signal from a remote transmitter to the vehicle's control module/receiver. This radio frequency signal is sent directly to the car as an encrypted data stream. There is also something called a passive keyless entry, so you don't have to press a button. You simply walk towards or away from your car and it will automatically lock and unlock the doors all based on your proximity.
Key fobs are small security hardware devices with built-in authentication used to control and protect access to mobile devices, computer systems, network services, and data. The key fob displays a randomly generated access code. This code changes regularly, usually every 30-60 seconds. The user first authenticates him or herself with a key fob using a personal identification number (PIN) and then authenticates the current code displayed on the device.
An example of a keyless project is integrated into an existing booking and billing application software with keyless access. Within short-term
car leasing
whereat vehicles frequently change drivers several times a day, the digitalization of the process eliminates the hassle of passing the keys around or even the loss of keys. For this project, we installed a BLE chip within the
AutoPi TMU device
, that will automatically grant a temporary token to the driver's phone application. Which enables the driver to lock and unlock the vehicle through Bluetooth authentication within their booked period.
Another example of a keyless project is to accomplish a smarter keyless configuration within an organization. The organization has many drivers who, throughout the week, switch between the vehicles. Simplifying the process eliminates the hassle of passing around the keys without a requirement to use personal/company phones. For this project, we installed an RFID reader on the vehicle that will be able to lock and unlock with an authenticated RFID fob. The dispatcher is now able to schedule between the drivers and the vehicles.
If you want to know more, here is a
general technical overview
of the AutoPi Keyless solution.
STILL HAVE QUESTIONS?
Get in touch with us – We're ready to answer any and all questions.