AutoPi Management Cloud
Fleet and device management software
Visualize all your data in the AutoPi Management Cloud. Keep track of your devices and vehicles with our Advanced Fleet Management software.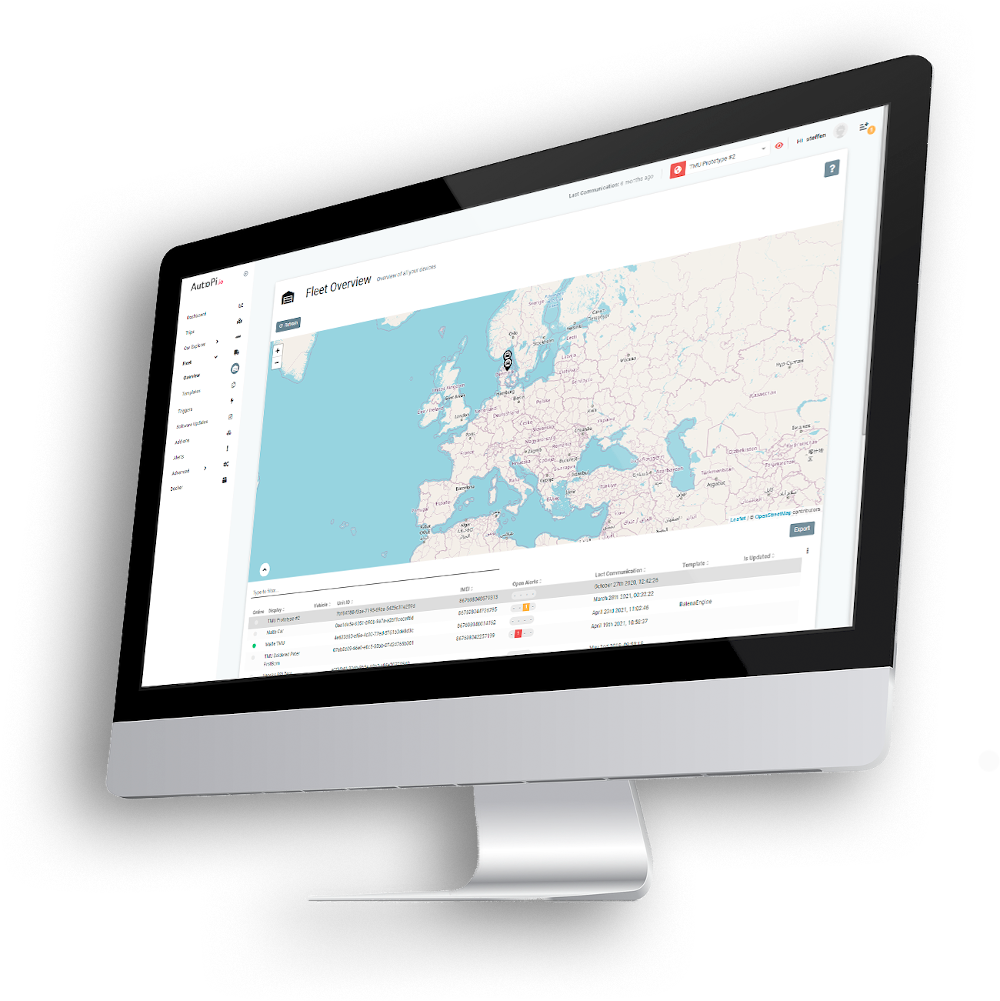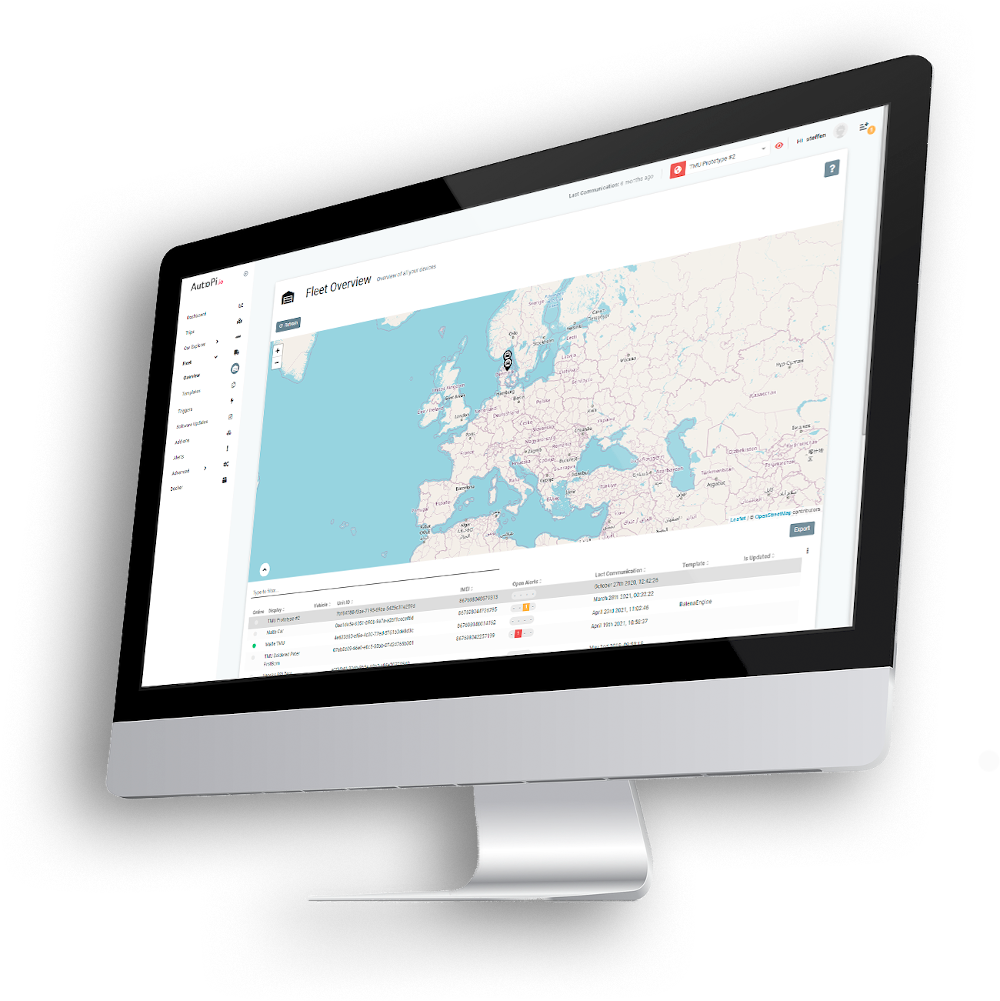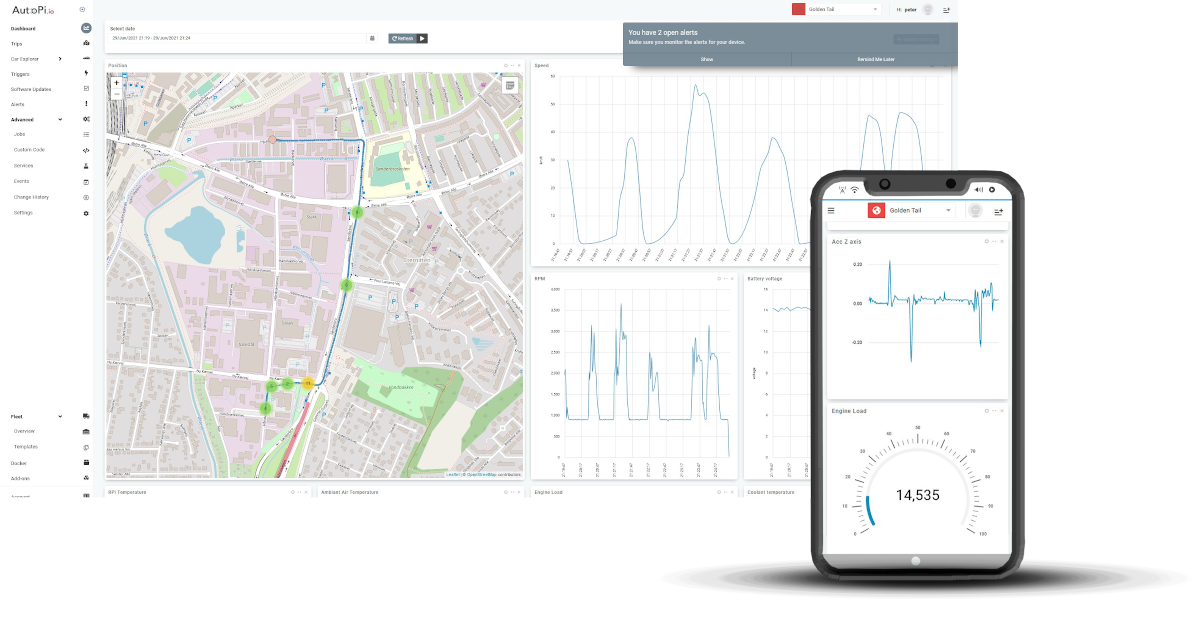 Fully customizable dashboard
Set up your dashboard exactly like you want
The AutoPi dashboard is based on widgets, each visualizing information related to your car. The data shown in each widget can come directly from your car's internal computer or from external devices connected to the AutoPi Telematics Unit. The dashboard is fully customizable; widgets can be added, moved, resized and removed again. In live mode, the dashboard shows data streaming directly from your car. In paused mode, you can review previous data.
View historic trips
Historical trips are available in the Trips overview
All your trips can be stored in the cloud, and you can always go back and review them. A specific trip can be loaded into your dashboard and the data can be viewed with your chosen widgets. See events and important notifications back in time, to keep track on your vehicles.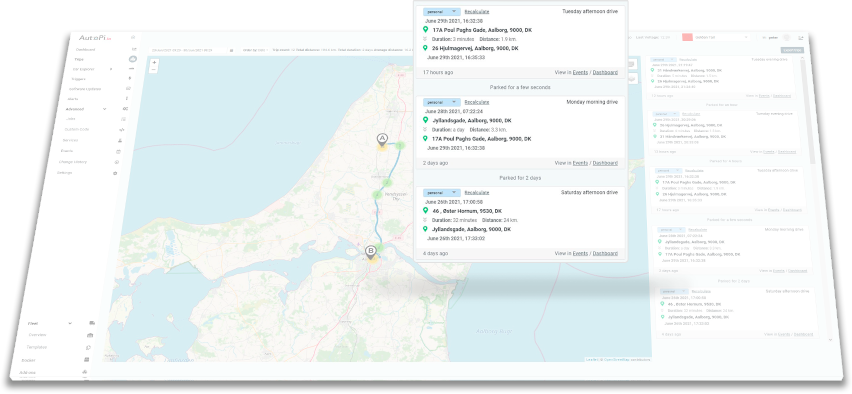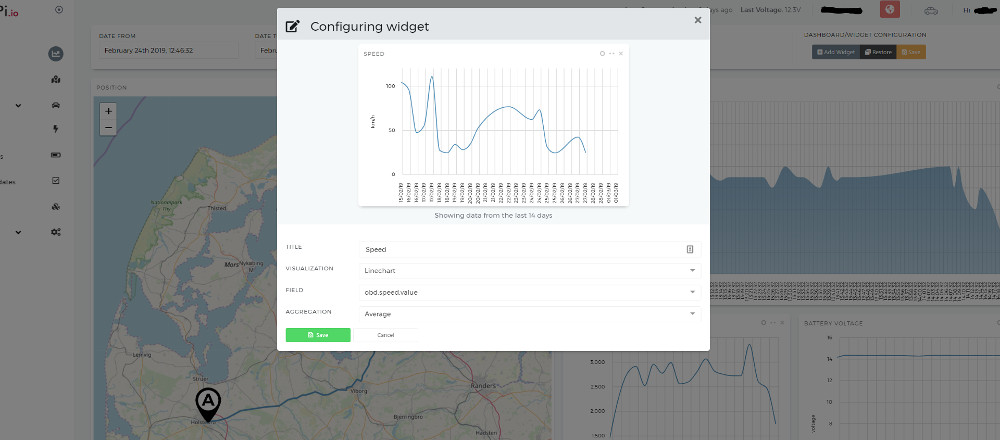 Browse to find widgets in the widget library
Visualize your data in any way you want
The library contains a lot of widget types that can visualize data on your dashboard in different ways. Any additional software required on your AutoPi Telematics Unit to retrieve data for new widgets are automatically downloaded and installed. All you need to decide is what you want to show.
The Car Explorer in the AutoPi Cloud
A new way of thinking IoT from a car's perspective.
Discover hidden metrics and functionalities. All modern cars allow communication with the on-board computer systems through the OBD-II port. It is possible to extract a lot of different information from these systems, ranging from performance measurements to error codes (DTCs) and even control devices like windows and door locks.
The OBD-II Car Explorer in the AutoPi portal lets you explore the information and functions available for your specific car. You can choose to visualize and integrate these information and functions in your dashboard.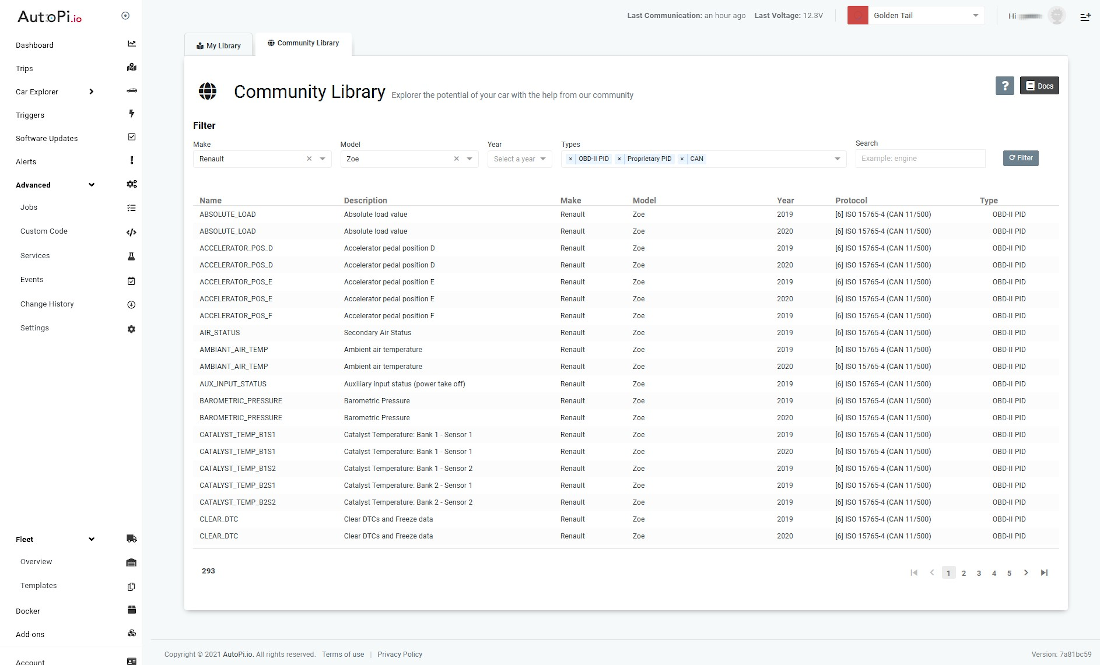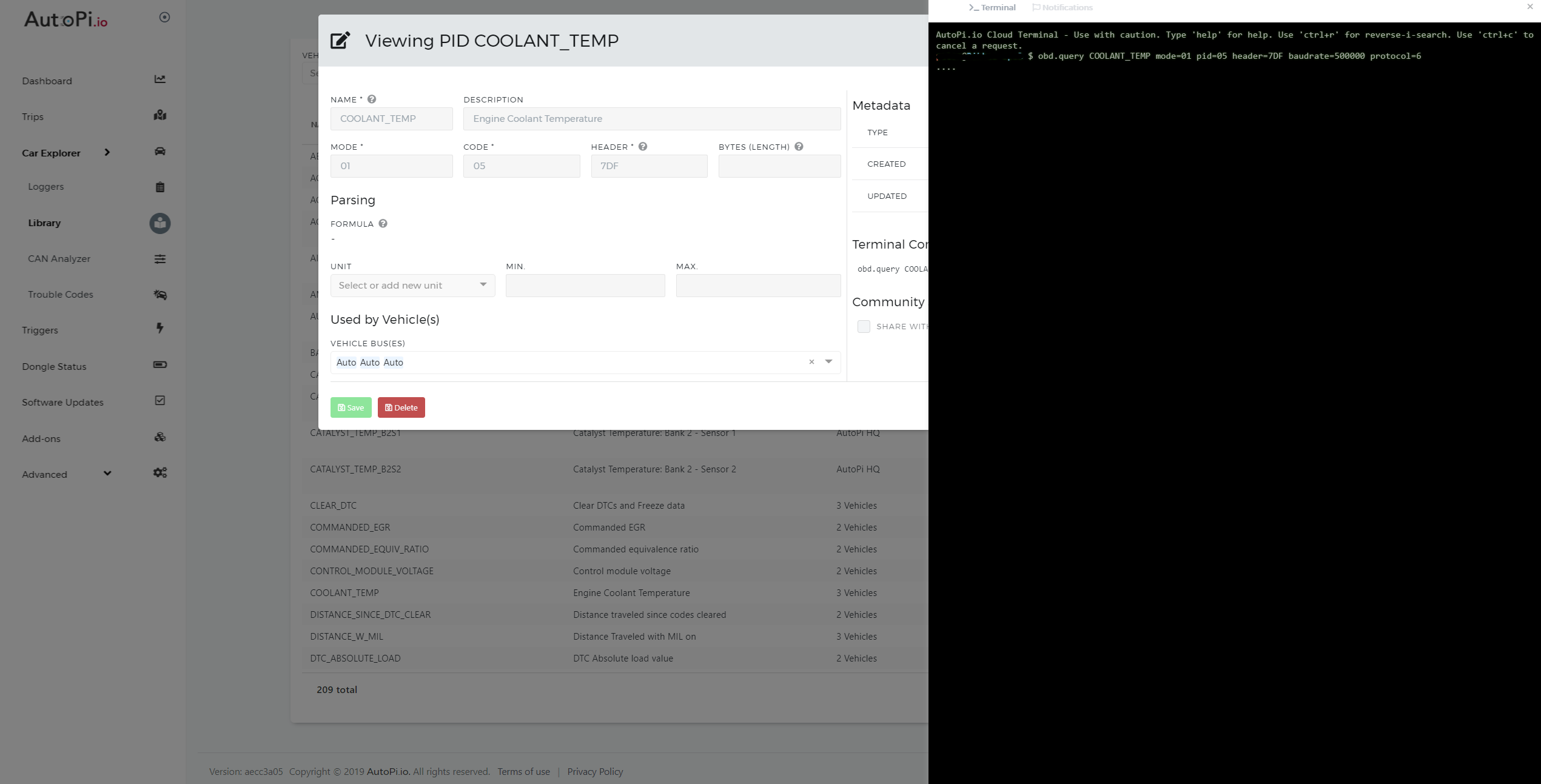 Communicate with your car
Send commands remotely with the built-in terminal
The Car Explorer is an online terminal which lets you test and discover new commands for your car. New and undiscovered commands can easily be added to the library and shared with the user community.
Build your own Custom Code modules
Add new software and extend your device with functionality. Deploy instantly to your AutoPi Telematics Unit.
Modules are written in the Python programming language. They can facilitate communication with internal and external devices in your car. By writing your own module you can integrate with an external device that is not already supported by the AutoPi platform. This could be a custom proximity sensor that is connected to your AutoPi Telematics Unit. Modules are used throughout the rest of the AutoPi platform, for instance in jobs, reactors etc.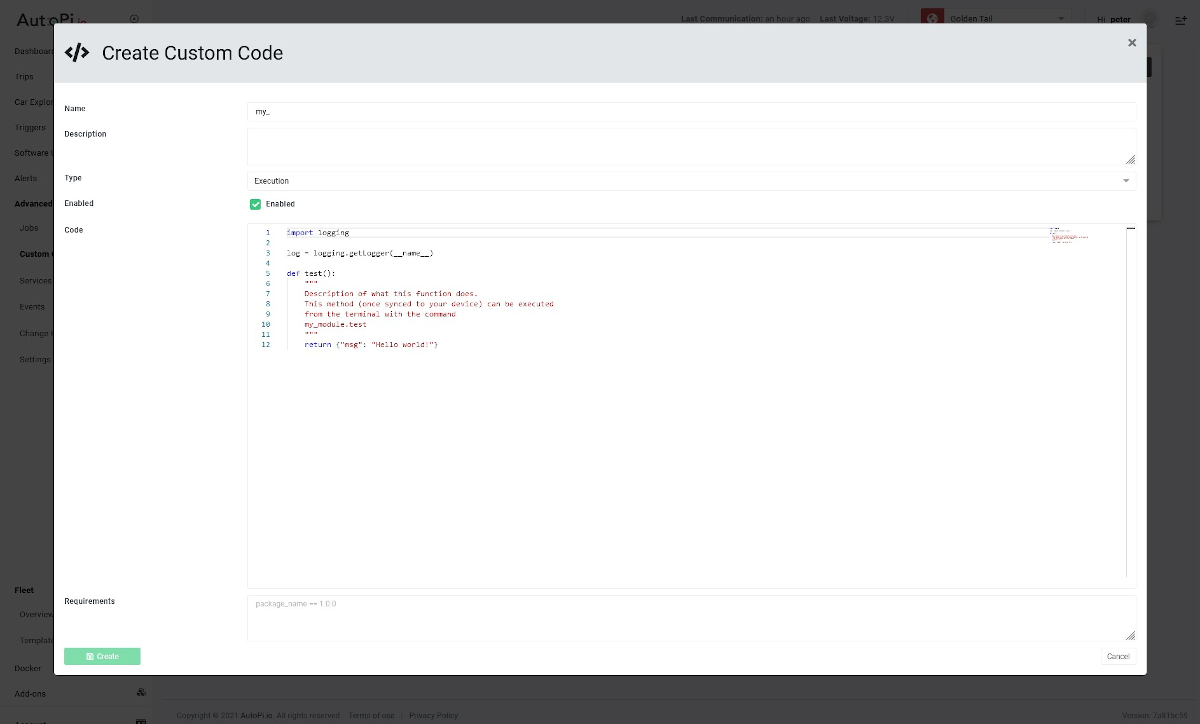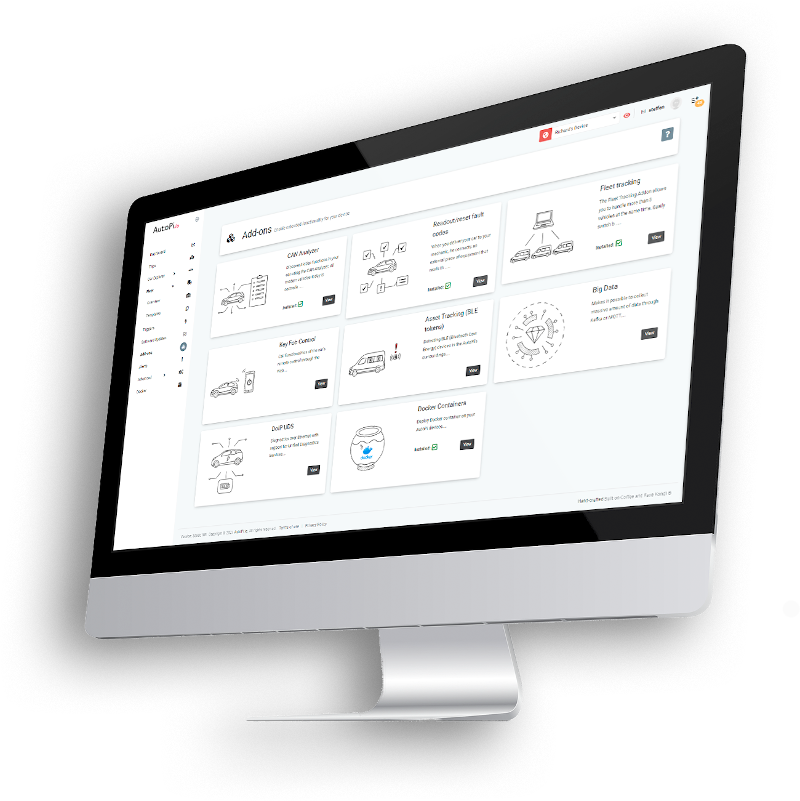 Discover Add-ons in the AutoPi Cloud
Built by the user community and the AutoPi team
The add-ons library is like an app store, except it is open and free. Each add-on provides additionals to your AutoPi set up. An add-on can include modules, jobs, new widgets etc. Some add-ons will require external devices to be connected to your AutoPi Telematics Unit.
Easy Installation
Just click install and the system will do the rest
When installing an add-on, all required software is automatically downloaded, installed and configured on your AutoPi Telematics Unit, whenever it is online. Supplied widgets, configurations, custom views etc. are added automatically to your dashboard.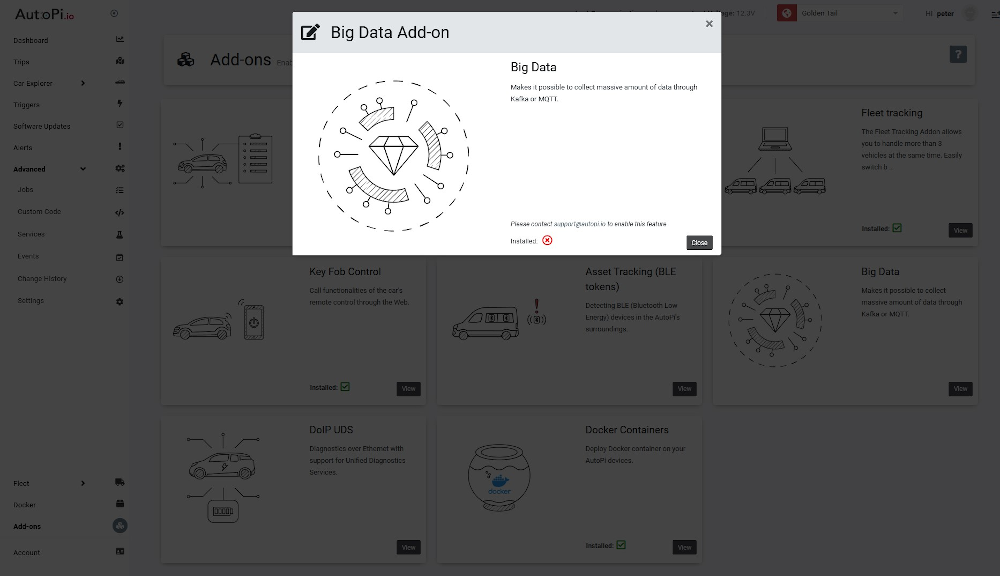 STILL HAVE QUESTIONS?
Get in touch with us – We're ready to answer any and all questions.