AutoPi Cloud:


Advanced Fleet & Device Management

Drive growth with AutoPi fleet and device management, leveraging cutting-edge IoT-infrastructure to gain valuable insights and maximize efficiency.

Schedule a demo
Advanced Features
Experience Reliability with AutoPi Cloud's
Advanced Features
Our world-class customer success team is here to help you seamlessly integrate AutoPi Cloud and achieve your desired fleet outcomes.
Flexible cloud usage
How AutoPi Cloud Works
AutoPi Cloud is a comprehensive management service provides a range of tools and features to businesses who work with vehicle fleets. With AutoPi Cloud, you can easily set up and manage data flows for your fleets, allowing you to collect, process, and analyze valuable data from your vehicles.
Below are four different ways clients can set up data flows:
Different ways to setup data flows
Device Management & AutoPi Fleet
Optimize Your Operations:

Configure, Adjust, Expand for Success

At AutoPi, we recognize that every customer has distinct management needs. Therefore, we provide two cloud usage alternatives: Device Management and AutoPi Fleet.
Manage Behavior
Easily manage the behavior of your devices from a centralized location. Allowing you to define rules for specific vehicles, such as enabling or disabling certain functionalities, setting up alarms, and how data is formatted and where it is sent. With this level of control, you can ensure that your fleet operates efficiently, safely, and securely.
Furthermore, the AutoPi Cloud service provides detailed analytics on the behavior of your devices, allowing you to identify potential issues and make informed decisions to optimize your fleet's performance.
Signal Processing
Easily monitor and analyze data from various sources, including CAN data and IoT data. The AutoPi device acts as a gateway, collecting data from your fleet's vehicles and transmitting it to your own server or to the AutoPi Cloud service for analysis.
Post-processing secure communication
Easily post-process your secure communication data to verify its integrity, detect any tampering attempts, and ensure that the data remains secure. Our post-processing feature provides you with detailed logs of all communication activities, making it easy to monitor and analyze any potential security breaches.
Endpoints specifications
Easily integrate with the AutoPi device and cloud services, enabling you to access critical data from your fleet's vehicles. The AutoPi device support various endpoints, including HTTP REST endpoints and MQTT endpoints. Access to a range of data including vehicle location, engine performance, fuel consumption, etc.
Over-The-Air Updates
Easily update the firmware and software on your AutoPi devices remotely, without the need for physical access. The AutoPi Cloud service provides a centralized platform for managing updates, enabling you to schedule updates, monitor progress, and roll back updates if necessary. This ensures that your fleet's devices are always up to date, with the latest security patches and performance improvements.
All Data in One Centralized Location
Easily monitor critical fleet metrics, including vehicle location, engine performance, and fuel consumption, from a centralized location. The Fleet Dashboard provides a holistic view of your fleet's operations, enabling you to identify potential issues and make informed decisions to optimize performance and efficiency.
The Dashboard is fully customizable, allowing you to select the metrics and data sources that are most important to your business. Furthermore, the Fleet Dashboard is accessible from anywhere, enabling you to monitor your fleet's operations on the go.
Send logged data to AutoPi Server
Easily log data from your fleet's vehicles and send it to the AutoPi server for analysis. The AutoPi device supports various protocols and interfaces, enabling you to collect data from a range of sources, including CAN data and IoT sensors. The logged data is stored securely in the AutoPi Cloud service, enabling you to access it from anywhere and analyze it in real-time.
Automatically record and report on trips
Easily track and analyze the performance of your fleet's vehicles during trips, including critical events such as harsh braking, accelerations, standstill, etc. The Fleet Trips features provides detailed reports on each trip, enabling you to identify potential issues and make informed decisions to optimize performance and safety.
Furthermore, the AutoPi device collects a range of data during each trip, including vehicle location, engine performance, and fuel consumption, providing a holistic view of your fleet's operations.
Virtual Boundaries for Real Data
Easily create virtual boundaries around specific geographic areas, enabling you to monitor and control vehicle movement in real-time. The Geofencing feature is fully customizable, allowing you to set up rules and alerts for specific vehicles or areas. For example, you can set up alerts when a vehicle enters or exits a specific area, ensuring that your fleet operates within predefined boundaries.
Capture IoT Data & CAN Data
Maximizing Data Insights and Optimization through
Customization and Integration
Maximize insights and gain a competitive edge by customizing data collection with workflows, post-processing, filters, asset/sensor integration, PIDs/CAN messages, and loggers to optimize performance.
Harness the Full Potential of your
IoT Devices
Setting up post-processing, filters, and custom formatting is essential for optimizing the data that your IoT devices send you. You can quickly select these options using AutoPi Cloud to make sure that the data is arranged and displayed in a way that suits your needs.

Customize workflows to enable you to set particular actions to be conducted depending on the data received from your IoT devices, which can help you automate and streamline your fleet management activities.

Gather data from many sources by simply integrating third-party devices and sensors into your current IoT infrastructure. The performance of your fleet can then be better understood by combining these data for analysis.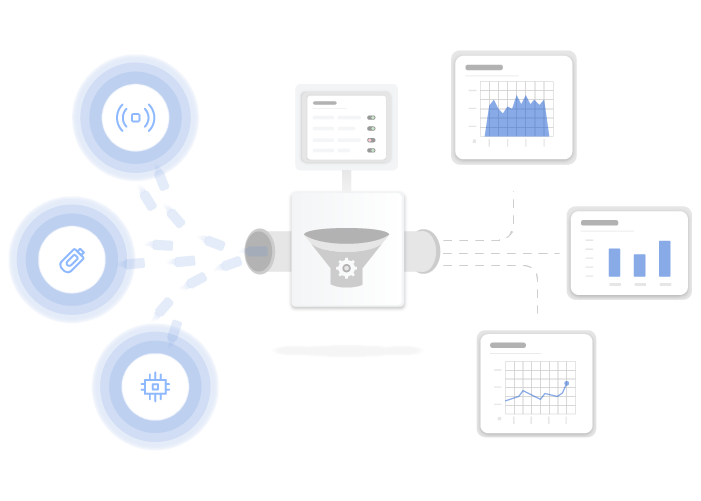 Make Smarter Decisions with Real-time
CAN Data
Easily access and examine data from all CAN protocols, giving you insightful knowledge about how well your fleet is performing. You can monitor and report on a variety of aspects of your vehicles, including engine performance, fuel efficiency, and emissions.

Easily configure custom PIDs and CAN messages to collect data on specific parameters that are unique to your fleet. This data can then be analyzed alongside the standard OBD-II and J1939 protocols, providing you with a more complete understanding of your fleet's performance.

Easily configure which signals you want to log and how frequently you want to log them. This allows you to collect data on the specific parameters that are most important to your fleet management operations, ensuring that you have the information you need to make informed decisions.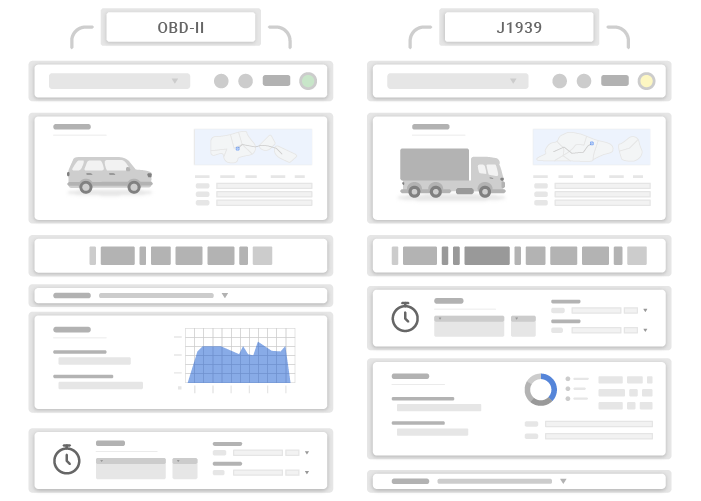 Benefits
Capabilities of
AutoPi Cloud
Transform your business with remote device management, real-time data visualization, and automated workflows for optimal performance and productivity.
Cloud Computing
Cloud computing provides numerous benefits for businesses that operate with vehicle fleets, including increased scalability, cost-effectiveness, and flexibility.
Cloud Solution
Scalable and flexible platform for managing vehicle fleets remotely, including a risk-free opportunity to test the platform with up to 3 devices per company, and the option to use the service for as long as needed.
Fixed Rate Pricing
Fixed rate pricing for our Cloud Solution, with no hidden fees or surprises, making it easy for businesses to budget and plan for their fleet management needs without worrying about unexpected costs.
One-time Fee Branding
Customize the platform to match brand identity, helping to reinforce brand message and enhance marketing efforts with fleet management customers, all without any recurring costs or additional fees.
Docker Compatible
Flexibility and scalability to integrate the platform with existing tools and workflows, ensuring a seamless and efficient experience for managing fleets, regardless of unique requirements and preferences.
Dedicated Cloud Environment
Ensuring maximum security and reliability for managing fleets, with customizable access controls and data encryption options, giving businesses the peace of mind, they need to focus on what matters most - growing and optimizing their fleet operations.
Comparison
Device Management and AutoPi Fleet
Device Management vs. AutoPi Fleet: A comparison of what each offers.
Something unclear?
Frequently asked questions
AutoPi's cloud management platform simplifies device management by offering centralized, real-time monitoring, and seamless integration with other systems. Businesses can manage all their devices from a single dashboard, automate processes, mass deployment, OTA updates, and gain insights into device performance and health, streamlining operations and enhancing efficiency.
Businesses can benefit from important features like real-time vehicle tracking, telematics data, remote diagnostics, maintenance, and centralized fleet overview thanks to AutoPi's cloud-based fleet management solution.
These features give companies the ability to increase fleet efficiency, cut operational expenses, and make data-driven decisions to maximize resource use.
Yes, AutoPi's cloud management platform can be customized to meet specific business needs in device and fleet management. The platform's flexiblity and adaptability allow businesses to tailor the solutions, integrating with existing systems and tools to create a comprehensive, end-to-end management system that aligns with their operational goals.
AutoPi's cloud platform supports scalability and growth for businesses in device and fleet management by offering modular architecture and seamless integration capabilities. As a business expands its operations, the platform can easily accommodate additional devices and vehicles, ensuring uninterrupted and efficient management.
Moreover, AutoPi's robust API enables the platform to integrate with other systems and tools, facilitating streamlined growth and adaptability in a rapidly evolving business landscape.
STILL HAVE QUESTIONS?
Get in touch with us – We're ready to answer any and all questions.