Today, an increasing number of objects are network connected, allowing them to send and receive data.
This is true for many common household items, ranging from a refrigerator to a smart television, and it is also the case for the vehicle.
Smart cars rely on vehicle telemetry data gathering, usage, and processing from a variety of sources, including the driver, the vehicle, and its surroundings.
E.g., tesla argues, it can transform their vehicles to become fully autonomous, by gradually improving the software that analyzes and responds to what the cameras see. F.S.D. (Full Self-Driving capability) is a step toward that.
The Meaning of Vehicle Data
Most vehicle data are of a technological nature, meaning they exist only briefly and are never stored. Storing the Data and creating insightful data are the most essential of making data-driven decisions.
Other vehicle data collection can potentially be put to a wide variety of services, such as advising the driver on the easiest and safest routes, automatically paying for parking or tolls, infotainment, and other services.
Vehicle data collection may also be utilized for a variety of purposes, including the development of self-driving cars and increasing transportation efficiency.
It may also be used to facilitate the development of new business models with parties interested in vehicle telemetry data, such as insurers who can customize their insurance policies to the driving habits of the car owner.
Furthermore, governments can also be interested in vehicle telemetry data, as smart cities emerge to enhance traffic conditions, facilitate traffic management, and ensure road safety.
The vehicle's electronic control units (ECUs), controller area network (CAN), and even the infotainment system creates massive amounts of data.
The possibilities for building services for drivers, based on vehicle telemetry data are limitless, ranging from smart cities and traffic management to insurance, electric vehicles, self-driving cars, services, and much more.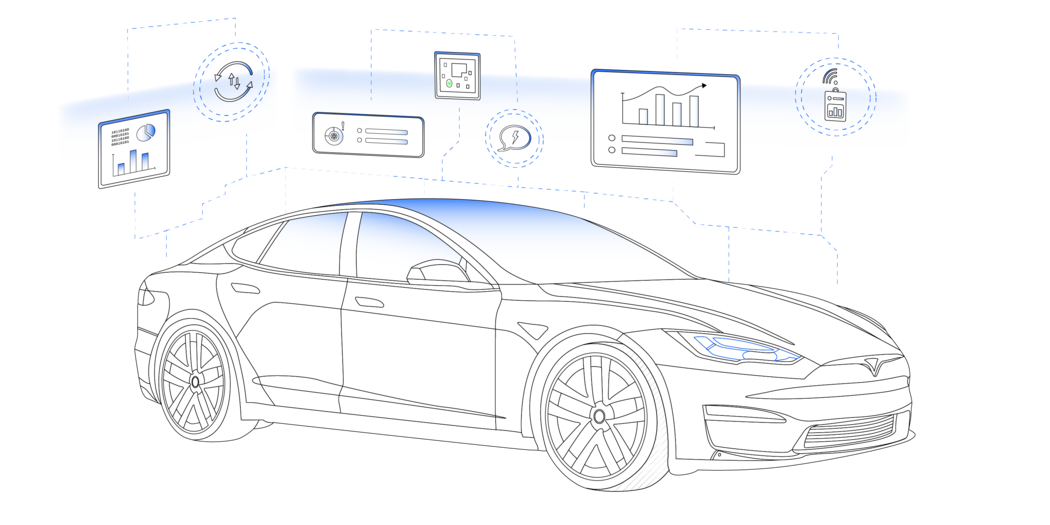 Types of Vehicle Telemetry Data
Vehicle telemetry data can be divided into non-personal data collected by sensors, such as weather and roadside conditions, or repair and maintenance information, and personal data that can be traced back to or associated with the vehicle driver, such as journey details, driving style, and data from the vehicle driver's phone.
Vehicle Data Collection Privacy
With the growth of Internet of Things (IoT), consumers may have legitimate worries about the security of their personal data and privacy.
At the same time, consumers may be eager to share data with service providers if it means receiving beneficial services. Data security is a concern that manufacturers take extremely seriously.
Consumer acceptability is crucial for effective and timely implementation of advanced automated safety systems.
These technologies create, use, and may exchange a large quantity of vehicle data that consumers are likely to regard as sensitive and personal, e.g., routes frequently traveled and precise addresses visited.
Consumer aversion to new technology due to worries about data privacy may delay implementation and undercut potential safety advantages, i.e., lives saved, and injuries avoided.
However, the automotive industry is committed to providing all its customers with a high degree of personal data privacy while also preserving their confidence.
As a result, the European car, van, truck, and bus manufacturers have accepted five fundamental data protection principles. Manufacturers agree to:
Being open and honest

Providing customers with options

Keeping data security in mind at all times

Data security mush be maintained

Personal data should be processed in a proportional manner

The bottom line is that manufacturers will only share personal vehicle data with third parties, if these conditions are met:

- Based on a deal with the customer.

- With the customer's prior approval.

- To fulfill legal duties.
The Dutch government, European Commission, and European Data Protection Board (EDPB) have all recognized the significance of privacy protection as a prerequisite for responsible use and transmission of in-vehicle data.
What is Vehicle Data?
Cars collect a massive amount of important data as you drive. They gather data about your location, driving behavior, vehicle health and more. These vehicle data are attractive to many companies.
The Advantages of Sharing Car Data
Vehicle data collection, usage, and processing are becoming increasingly important in connected cars. Thereby, modern motor vehicles create plenty of data.
Today's vehicles are becoming more linked in the sense that they may wirelessly share information with other vehicles (V2V), Cloud (V2C), Pedestrian (V2P) and Everything (V2X).
Third parties are increasingly interested in obtaining and exploiting vehicle data to create services, as the volume of data generated by automobile grows.
Sharing car data with such parties may improve the driving experience, boost driver comfort, optimize goods, and contribute to societal goals like enhancing road safety and lowering fuel usage.
Some instances of usage third parties could accomplish are:
Advice drivers on the simplest and safest paths to avoid traffic and road dangers.

Provide smart parking information.

Call emergency services in the event of an accident.

Predict when the vehicle requires maintenance or repair to minimize breakdowns.

Pay for parking or tolls automatically.

Allow insurance providers to give customers customized service (e.g., based on distance traveled, driving style, etc.).

Give timely access to vial local information.

Offer customized entertainment and other services.

Make the vehicle an extension of your phone by providing access to music, social media channels, e-mails, and so on.