Build A Raspberry Pi Car Computer (carputer) in 2022 - Manual
Tesla-like dashboard for your car
Integrated car computers (or carputers) are not only for expensive cars like the Tesla Model X, nor it is only for complex car DIY projects that require you to have a degree in engineering.
---
Not many people know how easy it is; by combining a few components, it is possible to achieve a Raspberry Pi car computer or carputer. Keep reading and we will show you how.
---
With Raspberry Pi, we can make your car Tesla-like and integrate it into a real carputer. With a Raspberry Pi car touch screen, your ordinary car is opened up with vast possibilities and opportunities.

In Tesla, everything is controlled from the large touch screen in the center console. From climate control, maps overview, cabin overheat protection and many more features.



This functionality is no longer only for Tesla drivers. This guide will show you how similar functionality can be built. Here are some of the cool features you get:
Touch screen interface
Fast 4G/LTE Internet connectivity
Car diagnostics and integration through OBD-II port
Speaker or audio playback through Bluetooth device
Accelerometer readings
Dashcam for evidence recording and surveillance etc.
Supplies
You do not need to have great knowledge about the Raspberry Pi and do not require any special tools as no modifications are made to your car.
Goal of this guide
The goal of this step by step guide is to show you how a powerful car computer with a touch screen interface and a lot of functionality, can easily be built into your car.
This guide will not go into details about the actual mounting in your specific car, as it may be slightly different from car to car.
The AutoPi platform gives us a lot of functionality out-of-the-box, which makes the job much easier. Here are some of the highlights, which we can use in this project:
Power supply, car diagnostics and telemetry from the OBD-II port
4G/LTE connection, GPS, accelerometer data and voice speaker
GPS for directions
An advanced dashboard with widgets (will be used in our car computer). See more here.
We want to add the following functionality to our dashboard:
Gauges to show Speed/RPM/Fuel
Current position on Map
Buttons to control AC temperature
Buttons to control radio volume
Cabin overheat protection
Raspberry Pi Car Computer
Raspberry Pi car computer (carputer) is a "computer" installed within the vehicle and is based on the Raspberry Pi board. Its purpose is to provide you with several cool features and additional features you wouldn't normally have within the vehicle. It is a very helpful feature to have that will improve your driving experience and this should be the final result after assembly of our hardware: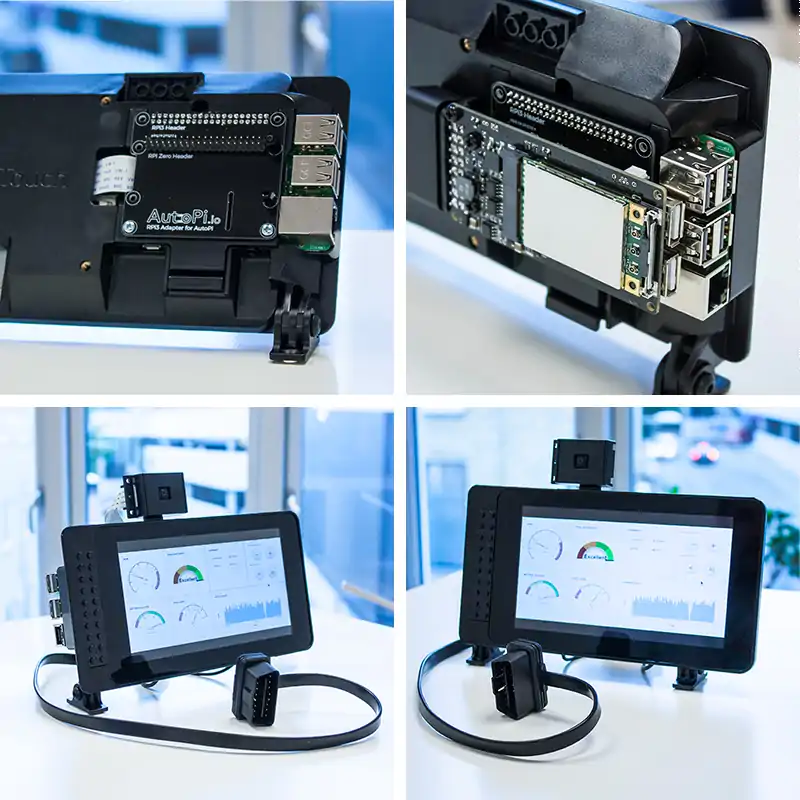 Here are the steps
1.
First we need to assemble everything in the SmartPi case.
Continue by mounting the AutoPi Raspberry Pi 3 adapter board on top of the Raspberry Pi 3. Next go ahead and mount the AutoPi Dongle board on top of the adapter board.

Raspberry Pi Car Computer
2.
Find a place in your car where you want the touch screen located. In our example we have mounted it on the center console using strong double-sided tape.
You can also attach is using two GoPro adhesive mounts if that works better for your specific installation.
Tip
: The screen could also be located on the steering column and used as a replacement or addition to the standard instrument gauges.
3.
Locate the OBD-II port of your car. It is typically found under the dashboard, but varies from model to model. Insert the OBD extension cable into the car and then connect it to the AutoPi Dongle board located on the back of the touch screen.
If you have purchased a back cover to your SmartPi case you can install it now.
4.
Once connected the unit powers up and you will briefly see a small startup prompt on the screen. This is because the AutoPi
IoT platform
is optimized for fast boot and does not contain a graphical user interface.
But this is easy to change. On your laptop or mobile phone, log into your AutoPi account on.
5.
Go to the Add-ons section and find the "Local Touch Screen Dashboard" add-on. This will install a minimal X-windows server on your AutoPi Dongle; enabling display of graphical elements. Press the Install button.
6.
If your AutoPi Dongle is online, the installation will be executed immediately and you can follow the progress on the screen.
If it is offline (or in sleep-mode), the installation will be queued and installed next time the AutoPi Dongle wakes up.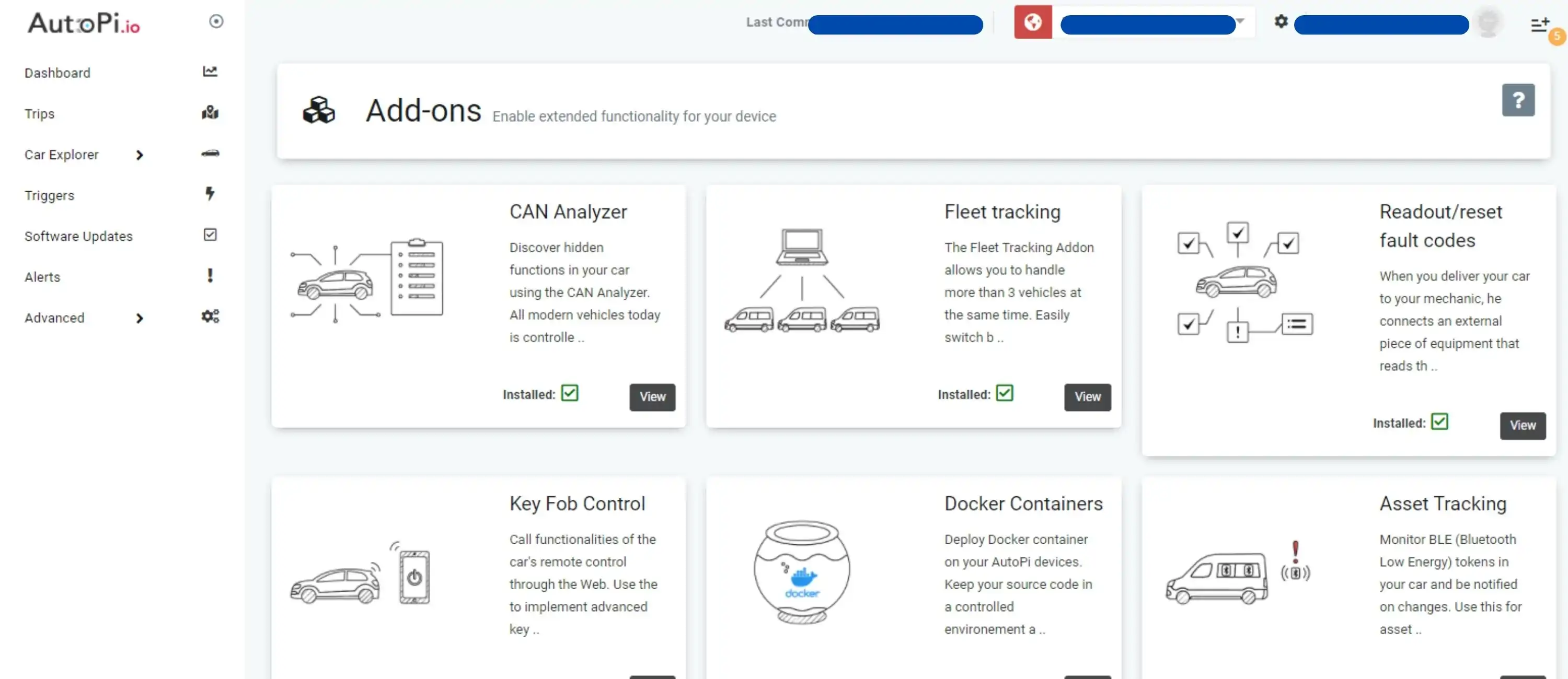 AutoPi Add-ons Overview
7.
After the install you will see the my.autopi.io system login screen. You will need to login the first time you use the system.
That's it, you have now installed a touch screen computer to your car. All you need to do now is configure which widgets you want displayed on your dashboard.
AutoPi dashboard is super easy to work with and it is fully customizable, meaning you can configure it as much as you want. You also have an opportunity to choose among many useful features, called add-ons that will improve your overall experience even more.

Raspberry Pi is commonly used in automotive industry due to its cost and performance. Raspberry Pi car computer is one of the most favorite use cases, but there are plenty of other ones to build on top.

We also recommend you to mount an external camera to your car, which can give you lots of additional benefits such as video evidence recording or traffic sign warning.
Obviously, it depends on your preferences. Go to AutoPi add-ons (in management cloud) and choose whatever you like and will help to improve your driving experience.
Configuring new widgets is easy, and also adding new functionality is just as easy. Here is an example of implementing:
Cabin Overheating Protection
Some of you might have a problem installing it. We recommend you to check our
community page
, where you will find more detailed explanation and you might get inspired by other AutoPi users.
Recommended by our users - Developer Kit
Additionally, many of our users have contacted us, asking about some kind of developer kit. We have analyzed your needs and worked on creating personalized solution for you.
Therefore, we have prepared a developer kit, which is the best option if you are planning to build something awesome and extraordinary. Get it here:
https://shop.autopi.io/en/products/autopi-developer-kit-20/
This is a great starting point for your advanced Raspberry Pi car project that has potential to scale up into a business opportunity one day.
All of the widgets and add-ons are available for you in 2022 and we are working on developing new features to improve your driving experience even more. If you have any questions, or need an assistance with your current project, contact us
here
. We recommend you to check out are
top 10 automotive industry trends in 2022
article, where you can get inspired and get an amazing idea.
You already know that having a Raspberry Pi touch screen car computer will bring you lots of additional features and improve driving experience. However, this setup is commonly used by our business clients too, for several reasons, such as video recordings, route documentation, and much more. It is mostly being used in
Transportation
, and
Police and First Responders
industries. The Raspberry Pi car computer can be implemented in many industries and use cases. Contact us to to get a help with your project.