Installing a Dash Cam to your vehicle has never been easier and we have a definitive guide for you to assist you with the process. Follow this simple step-by-step guide to install the dash cam to your vehicle.
Many of you have asked us to write a detailed guide on how to install a Dash Cam on your AutoPi. So here we are. We have an easy guide and detailed instructions on how to install a camera on your AutoPi.You most likely haven't found an easier installation, as you just simply need to connect the usb camera to your AutoPi dongle. There is no need for you to struggle with connecting it to the fuse box of the vehicle.
Having a dash cam in your vehicle brings you lots of benefits and can literally save or prevent any unpleasant situations. We have already written about this video evidence recording feature of AutoPi.
If you want to read more about exact technical specifications, we have written an additional guide. The additional guide will show you how to attach an external USB camera (dash cam) to your AutoPi with the MotionEye software. You can find the guide here.
Do you want to upgrade it and have a touch screen car computer? Then check out another article from us on how to build a Raspberry Pi car computer touch screen.
The best dash cams offer security and protection for you and your vehicle. Dash cams come in different varieties, based on its price and features. There are literally hundreds of different types of dash cams that can help you and bring a real value to your vehicle.
In addition to the AutoPi Telematics Unit, we provide businesses with customizable solutions, in order to improve their operations. These solutions can be controlled through the AutoPi cloud management platform.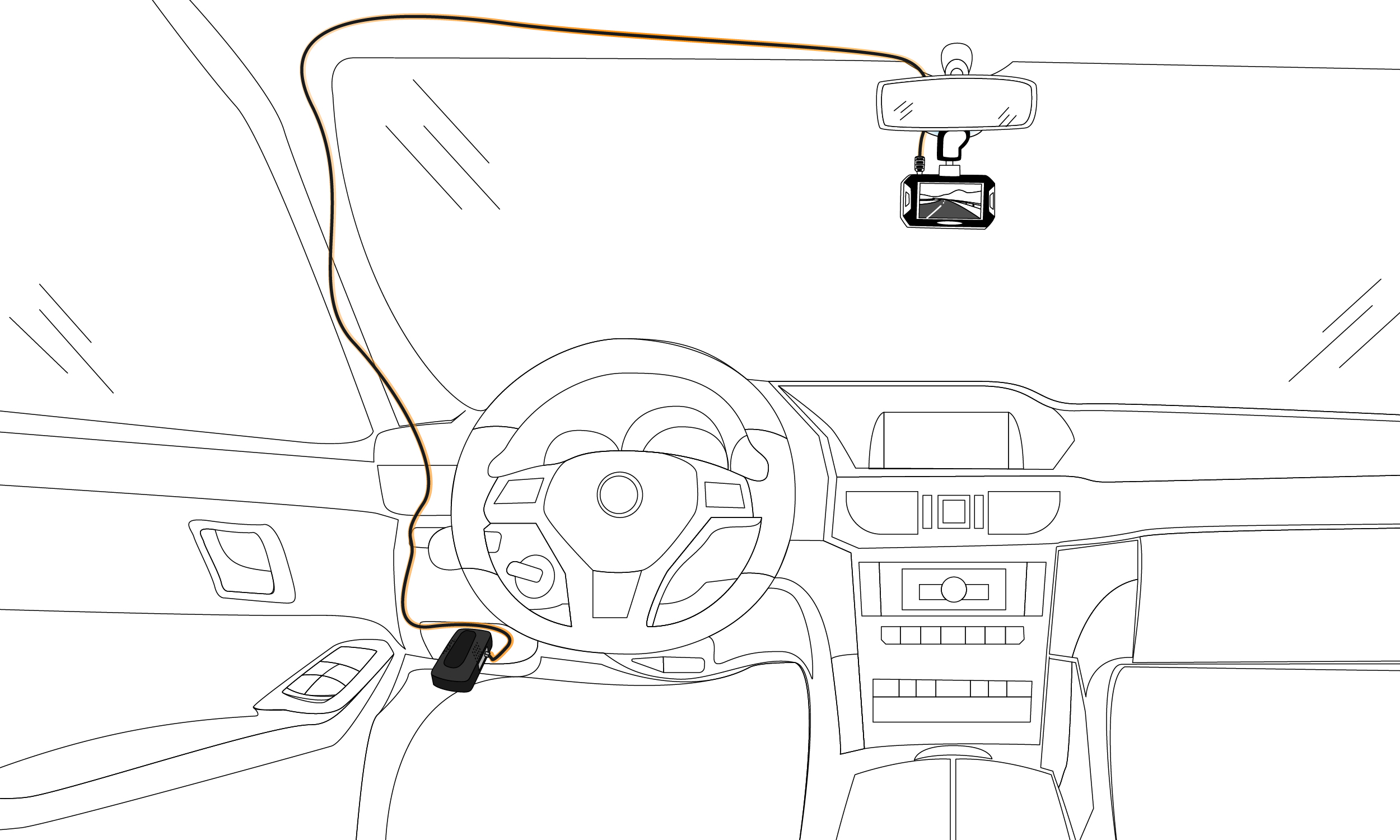 What is a Dash cam?
A dash cam, often known as a dashboard camera, is a gadget that is exactly what the name implies: a camera that is put on the dashboard of your car. A dash cam's primary function is to serve as a "silent witness" in the case of an accident. The dash cam is intended to meticulously and precisely record every detail that occurs on the road.
Connecting the dash cam to your AutoPi will give you lots of additional benefits and possibilities. Therefore, there is no need to buy one of the most expensive cameras out there, as AutoPi can actually do the same and even more than the most advanced dash cams on the market.
5 reasons for why you need a Dash cam.
Hard proof in case of car accident.

This is by far the most important reason why millions of automobile owners have chosen to spend their time and money in dash cameras. Simply said, the camera will begin recording as soon as you start your car's engine and will give real-time, efficient, and direct evidence in the event of an accident. For example, if a car accident occurred and your vehicle was involved, you may establish that it was not your responsibility and submit the videotape as evidence (link) in the event of a court trial. In the event of an automobile accident, the dash cam is the most powerful and effective proof you have for defending yourself. Finally, it is best to have one and be cautious, as it may save you a lot of time, money, and hassle in the long run.

Ideal for concerned parents and car owners.

Are you concerned every time your youngster steals the vehicle keys and goes for a ride? Or do you frequently lend/rent your automobile and worry about what can happen to your valued asset? Most contemporary dash cameras have GPS devices incorporated in them, so in addition to capturing every detail that occurs both inside and outside of the car, the dash cam will also record the driving speed as well as the various street routes.

Avoid fraud.

When it comes to automobiles and traffic, insurance fraud is one of the most widespread challenges of the twenty-first century. Simply put, some drivers cause vehicle accidents on purpose, while some persons fabricate injuries in order to place responsibility on the other party and extort money from the victim. This is a common type of fraud nowadays. The dashboard camera has the potential to avert at least one or two terrible occurrences. Installing a dash cam in your car and capturing the entire event might deter fraudsters from illegally extorting money from you or accusing you of something you haven't done.

Videotape the entire road trip.

This is especially crucial if you enjoy road journeys and enjoy doing them with your loved ones on occasion. Do you want to make your road trip into an amazing experience that you may relive anytime nostalgia strikes? If this is the case, a dashboard camera is unquestionably a wise purchase that can help you transform your road trip into an unforgettable experience and memory that you will enjoy for years to come.

Effectively avoid parking accidents.

Parking can be a pain, especially for inexperienced drivers who frequently damage other cars while attempting to park their own. Have you ever woken up to discover your favorite automobile scuffed or severely damaged, despite the fact that it was entirely fine when you parked it the night before? Tired of your neighbor scratching your car while attempting to get theirs out? If this is the case, the dash cam will undoubtedly provide you with hard evidence.
Firstly, we would like to start by showing you how to install a Dash Cam to your AutoPi. The first and most convenient option for you is to simply purchase an usb camera and mount it to the AutoPi.
Choose The Right Dash Cam
Usually, it is recommended to use a specific type or model to use. However, you can basically use any dash cam that can be connected to AutoPi via micro usb, as long as it is compatible with Raspberry Pi.
If you want to search for cameras yourself, we recommend trying to search for best dashcams, usb cameras or in-car cameras to see different comparisons and opinions on the best dash cams on the market.
Supplies
You will need to get several supplies, in order to complete this task. But, don't worry. We will help you with that.
Here is what you need:
AutoPi dongle (find it here)

A dash cam (You can use any dashcam/webcam compatible with Raspberry Pi)

Maybe additional micro usb cable if not included in the box (find it here)

Set up your AutoPi dongle with the camera (find the guide here)

Velcostrips to mount your AutoPi (find it here)

Extension cable to mount your AutoPi (find it here)

If you found the recommended Garmin camera above to be too expensive, then you can purchase a much cheaper version, something like Toguard mini dash cam. Find it here.
Web cameras to connect
We have also researched, which cameras are compatible with Raspberry Pi and we have a list below. However, most of them are classic web cameras, which might be more difficult for you to mount in the vehicle and won't support HD or 4k quality.
Logitech HD Webcam C525 (find it here)

Sony PlayStation Eye Camera (find it here)

GE 98067 Mini Cam Pro (find it here)
The huge advantage is that you can basically connect any usb camera (dash cam) to AutoPi and there is no need of connecting it to the fuse box in the vehicle. However, it needs to be compatible with Raspberry Pi. Therefore, we recommend to make sure the camera is compatible with Raspberry Pi before purchasing it.
The AutoPi Telematics Unit (AutoPi dongle) can be connected to the vehicle through OBD2 port. Find out more about AutoPi and how it works on our home page.
How To Install a Dashcam
Connecting a Dashcam or basically any usb camera to your AutoPi is extremely easy. You might find videos, where they have to connect cables to the fuse box.
You do not need to worry about that with AutoPi. Simply connect your dash cam to the AutoPi
We assume you already have a camera and all accessories ready.
Follow the steps below to connect your dash cam to the AutoPi Telematics Unit:
Mount the camera holder (mount) to your dashboard or specific area you want to place your camera

Set up wiring - depends if you want to have a dash cam on the top of your front window or bottom (bottom usually requires less wiring)

Connect the cables to your camera and place it on the location

Connect the other half of the cables to the AutoPi dongle and plug it into the vehicle

Enjoy!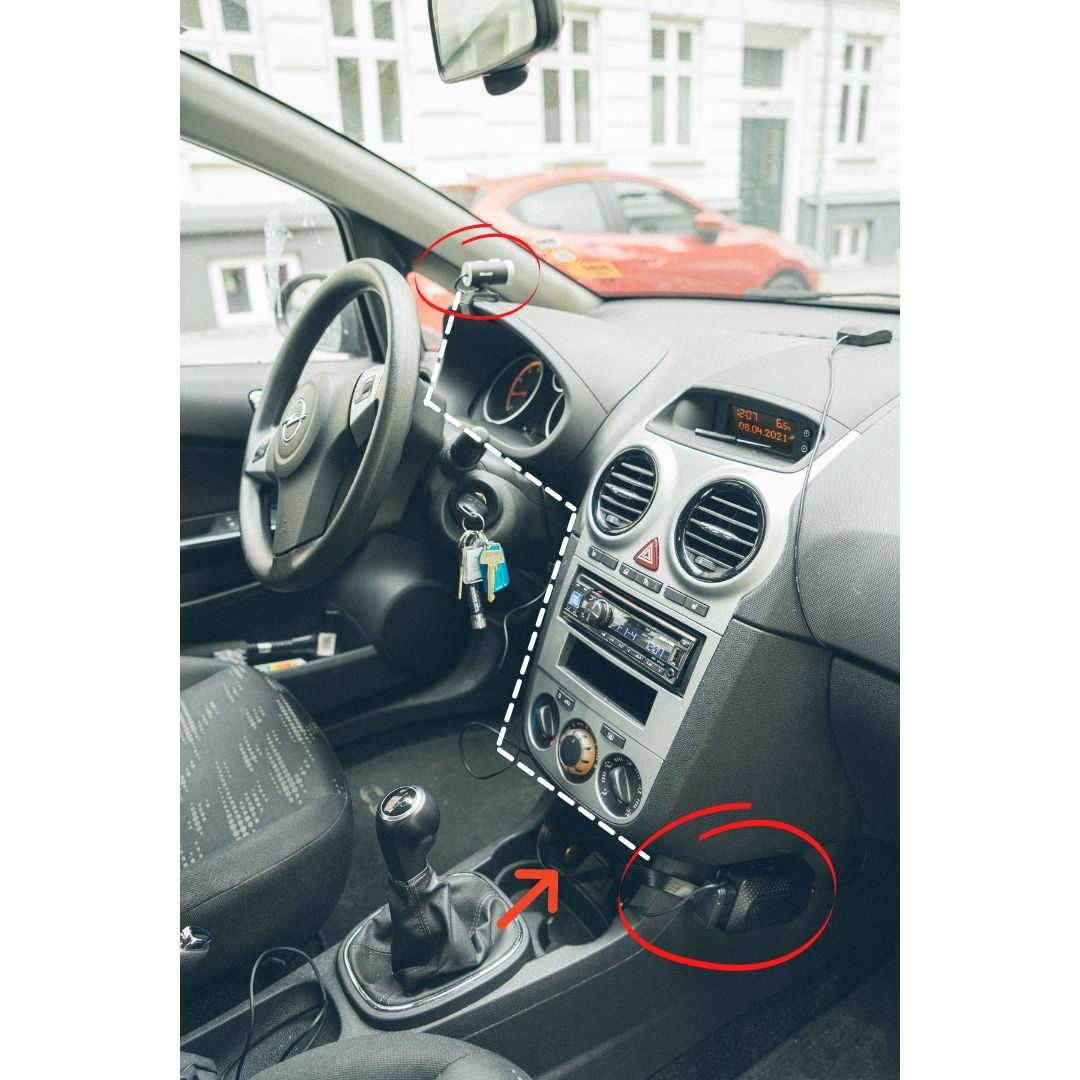 Yes. it's that easy. However, a couple of complications might occur, depending on the type of your camera and your vehicle.
Our Web Camera Setup
For the purpose of making this guide even more informative and provide you with all the information, we have also tried one of our in-house web cameras.
We have easily mounted the web camera on top of the dashboard (see the picture). Then we connected the web camera with AutoPi device and plugged in the device to the OBD2 port of the vehicle.
See the web camera setup below.

However, you will need to set up your dash cam with the AutoPi dongle, as we already mentioned before. In case, you missed it, it can be found here.
AutoPi dashboard
Here are the actual screenshots of AutoPi dashboard. You can easily set it up based on your preferences.
We recommend watching these two videos below that easily showcase how to install and hide your dash cam wires. See the videos below.
We hope you found the article insightful and you were able to install your dash cam, as well as connect it to the AutoPi. If not, do not hesitate to contact us on support@autopi.io
In case, you are missing some information or want to see a detailed guide on how to install a dash cam with AutoPi, check out the detailed guide here.