Many people define that a connected car is an Internet on Things system (IoT).
Connected cars can access, send, and receive data from any device in their proximity, as well as broadcast real-time positions and events to any device in the future.
This permits the connected car to keep track of what's going on during your drive. It is extremely useful for both road safety and environmental protection.
One of the major aspects about connected cars, is that all of the vehicle's data they send or receive is safe thanks to the technology behind Blockchain. Resulting in, your data or information cannot be leaked to a third party.
What is a Connected Car?
A connected car is one that includes wireless networks that allow it to communicate with other equipment such as computers, phones, nearby buildings, trains, and traffic signals, etc.
Timeline of Connected Cars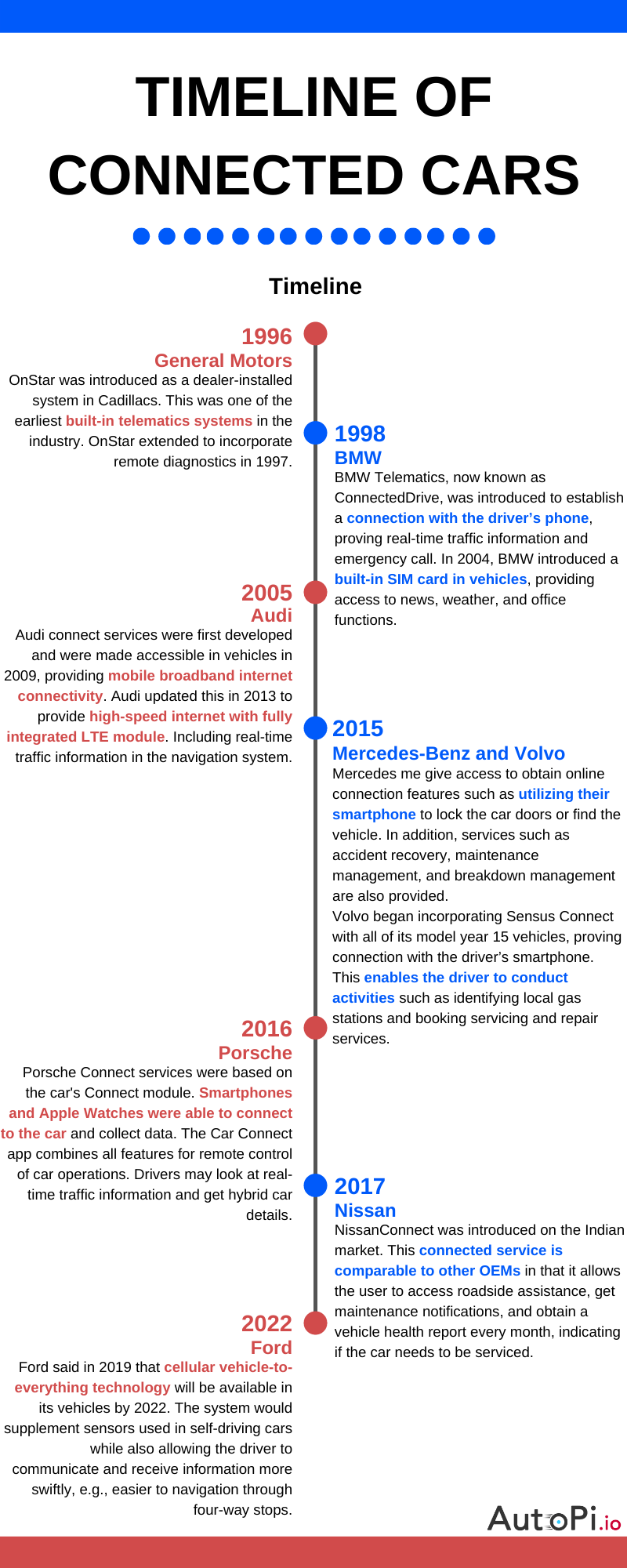 Type of Vehicle Connectivity
A vehicle may be connected to its surroundings in 5 distinct ways and interact with them.
Vehicle to Infrastructure (V2I)
The technology takes data from the vehicle and provides information about the vehicle and provides information about the infrastructure to the driver. V2I technology is used to provide information about safety, mobility, and environmental variables.
The technology provides information on the speed and position of surrounding vehicles via a wireless data exchange. The goal is to alleviate traffic congestion, prevent accidents, and have a positive environmental impact.
Regarding and for the vehicle's application, the technology connects with a cloud system. This allows the vehicle to leverage IoT and access vehicle data from other cloud-connected industries such as energy, transit, and smart homes.
Vehicle to Pedestrian (V2P)
The system gathers information about its surroundings and transmit it to other vehicles, infrastructure, and personal mobile devices.
Vehicle to Everything (V2X)
Various types of vehicles and infrastructure equipment may interact with one another thanks to this technology. This interconnectivity is aided by vehicles, roads, ships, trains, and aircraft.
Connected Cars Characteristics
The connected car is rapidly establishing itself as the form of transportation of the future.
In the connected car, wireless networks, and artificial intelligence (AI) are becoming increasingly essential.
Artificial Intelligence (AI) Interface
Recently developed AI software now functions as a personal assistant, responding to commands, recognizing faces, and advanced navigation system.
Drivers are more vigilant with telematics in connected cars, resulting in a higher safety rating. They get alerts not to stray off lanes and cause accidents, as well as a number of additional advantages.
It also comes with a smart maintenance service that sends you notifications when your car needs to be serviced. Telematics is incorporated into the majority of linked vehicles made after 2015.
A partially self-driving option is available on some high-end vehicles.
Self-driving vehicles come in a range of levels of automation, and they get enhancements and updates every year to increase their self-driving intelligence.
Many totally self-driving vehicles are expected to be on the road within the next decade, according to most automakers. However, they differ from connected cars in terms of navigation. Unlike autonomous cars, we still keep control when driving our connected car.
All open-loop and closed-loop control techniques used in car mechanics fall under this category. This involves monitoring the automobile battery, gearbox oil pressure, and gas exhaust management, among other things.
Sensors provide the advantage of allowing the linked vehicle to utilize gasoline more efficiently, saving you money on petrol.
The futuric connected car is, undoubtedly, 5G and will allow networked vehicle to relay data about their driving patterns. It will be outfitted with ultra-powerful receivers and transmitters, allowing for faster real-time communication. Every position/location will be more exact in real time.
When a connected car gets 5G, it will be able to communicate with municipal networks, which can help you find parking, discover hidden locations, and advice you on which alternate route to take when there are major traffic jams or barricades.
The Meaning of a Connected Car
What was once science fiction is rapidly becoming reality. Connected cars are the future of advanced mobility, and like smartphones and computers, connected cars will become completely integrated with our digital lives.
Advantages of Connected Cars
Connected cars have obvious advantages, such as the potential to become safer and less harmful to the environment. They also provide the car sector a better chance than ever before to create and strengthen consumer relationships. The automobile industry's future is 5G connectivity, which will transform mobility as we know it.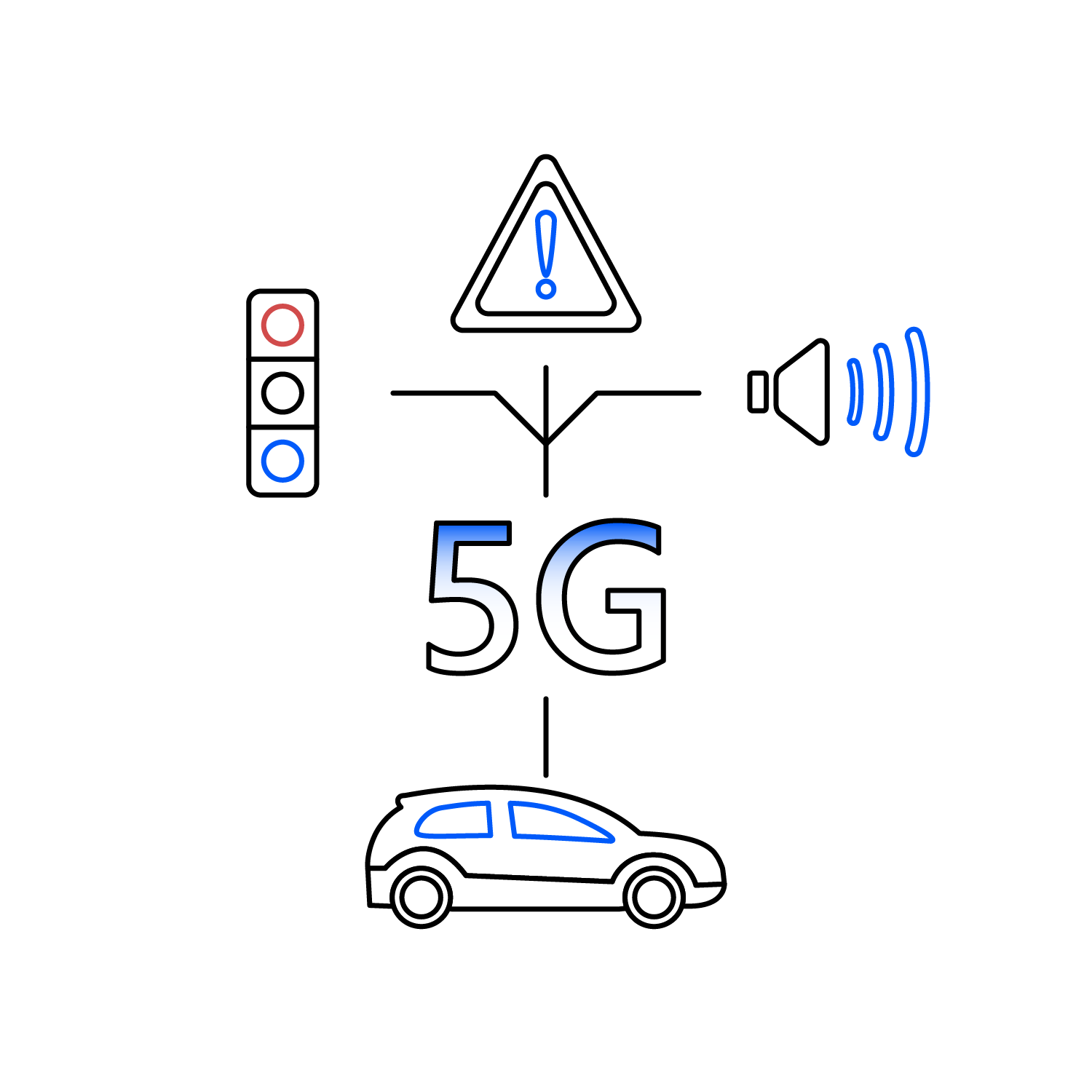 This is how 5G-connected cars are transforming the global driving experience.
In addition to improving road safety, many of the core properties of 5G enabled V2X technology might help manage traffic congestion in major cities.
Without the need for a central mobile network connection, V2I communication enables for direct communication between vehicle and surrounding road infrastructure. E.g., alert drivers of an oncoming red light or traffic jam, allowing them to change their route or the vehicle's speed to maximize fuel efficiency and reduce emissions.
V2I, V2C, V2P and V2X connections provide a more direct flow of data between vehicles, pedestrians, and road infrastructure. This means that drivers will be alerted to potential hazards such as broken-down vehicles, reducing the chance of an accident.
It has the potential to make a significant difference in global security.
As individuals become increasingly aware of the benefits of being connected, driver demand for connection is growing. Drivers in 5G-enabled automobiles may use their favorite entertainment apps, such as music streaming or audio book services, from the comfort of their cars.
The desire for a more luxury driving experience with all the conveniences of home has never been greater. More than 125 million passenger vehicles with integrated connection are expected on the world's roads by 2022, representing a 270 percent increase from 2018.
Read more about this here.
Final thought
The fast expansion of technologies such as the Internet of Things (IoT) and Artificial Intelligence (AI) has expedited the development of connected car technology, which was initially presented around the turn of the century.
In the vehicle ecosystem, every technological innovation strives to enhance safety, routing, pollution reduction, and accessibility.
In short time, connected vehicles will be a global phenomenon, enabling all of the mentioned qualities. Vehicles that are connected, like smartphones and computers, will become completely integrated with our digital lives. We will be gliding through the cities as passengers rather than driving.