Creating the perfect logo design is a critical task, for the reason that an automaker's logo may, and arguably should, be as well-known as its vehicles.
Tesla's logo is far from anonymous, but it turns out there's more to it than meets the eye. So what does Tesla mean? Let's dive into that.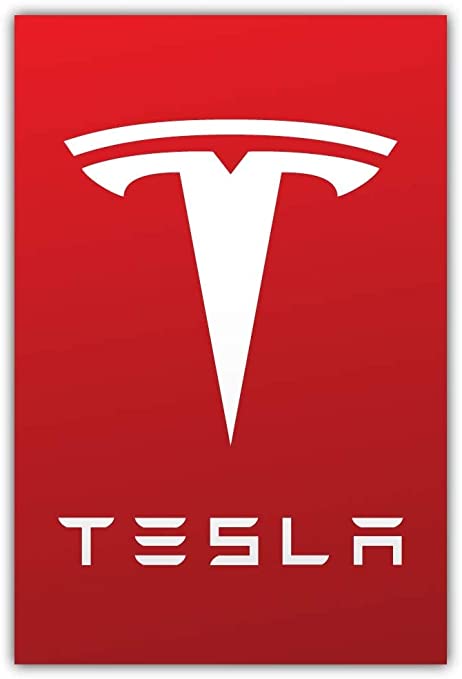 The True Meaning of the Tesla Logo
In short, the meaning behind the Tesla logo is a cross-section of an electric motor.
The Tesla logo is a distinctive, futuristic-looking rendition of the letter "T." It has a white logo on a black or red backdrop.
It was RO Studio that created the Tesla logo. The Tesla logo was originally designed to fit inside a shield, symbol, but the firm eventually dropped the shield and elected to go with the "T" as its mark.

What seems to be a stylized "T" is a reference to the company's products, according to Tesla CEO Elon Musk in a tweet. The Tesla logo is meant to resemble a cross-section of an electric motor.

The main body of the "T" represents one of the poles that protrude from the rotor of a motor, while the second line on top represents a piece of the stator. It creates a decent approximation of an electric-motor cross-section by repeating the Tesla logo in a circle, with the top of each "T" facing outward.
Tesla Models Timeline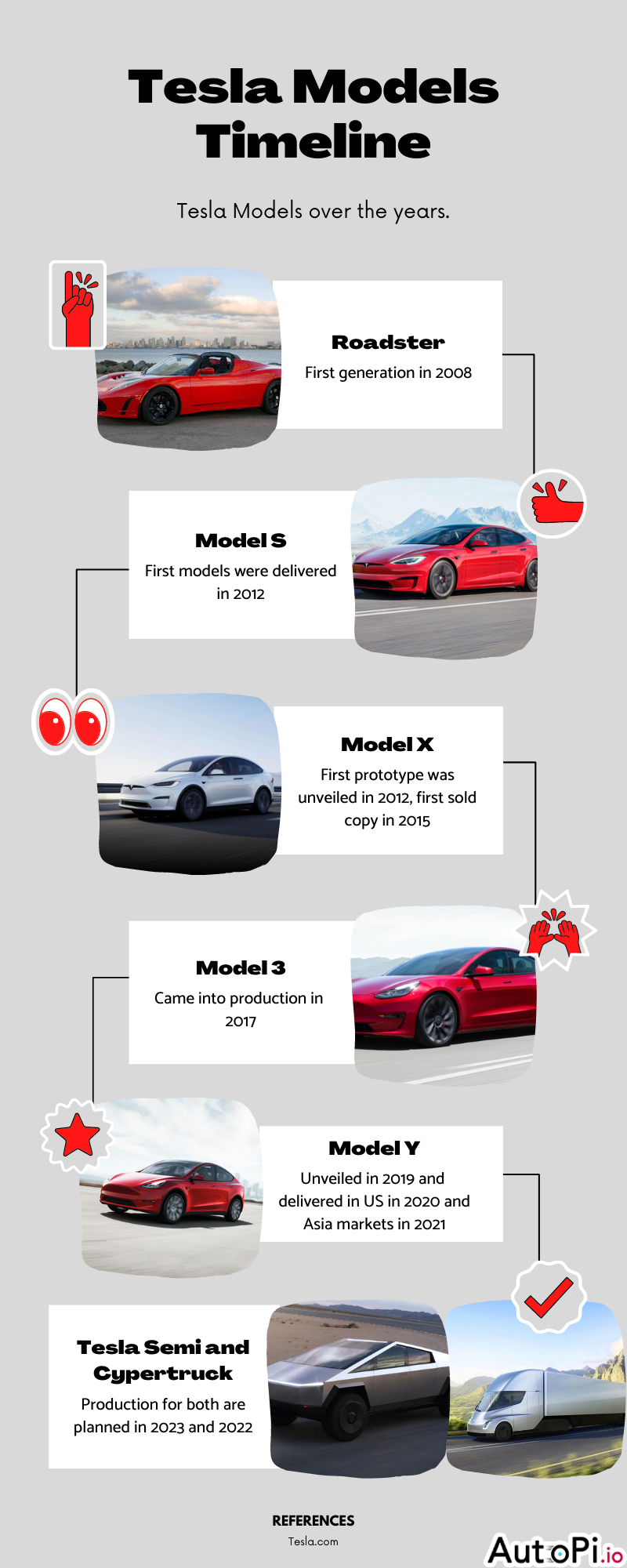 Tesla Roadster (first generation), 2008
The Tesla Roadster, Tesla's first model, was manufactured from 2008 to 2012. The Roadster can accelerate from 0 to 100 km/h in under 4 seconds, travel about 350 kilometers on a single charge, and reach a peak speed of 200 km/h.
Tesla Model S, 2012
On June 22, 2012, the first Tesla Model S cars for US buyers were delivered at a special event at the Tesla facility in California. The car was given the codename "Whitestar" at first.
Model S is also one of the world's quickest automobiles, not only electric cars but all cars in general. It has a range of roughly 650 kilometers and can accelerate from 0 to 100 km/h in 2.1 seconds.
Tesla Model X, 2015
The Tesla Model X is a four-wheel drive SUV.
The initial prototype was revealed in February 2012, and the first copies were delivered to clients in California in September 2015.
The vehicle is based on the same platform as the Tesla Model S. The Model X is distinguished by its falcon doors, or "gull-wing doors," which allow drivers to stand up in the vehicle.
Tesla Model 3, 2017
Model 3 began manufacturing in 2017 and was available on the European market in 2019. Temperature, driving style, and charging pattern all have a significant impact on the quoted range.
The car's central operational display, which replaces traditional buttons and displays, is one of the numerous advances.
Tesla Semi,2017
Tesla Semi is a developed all-electric battery-powered Class 8 semi-truck. It was revealed In November 2017, with manufacturing set to begin in 2023.
Tesla Model Y,2019
The Tesla Model Y is a forthcoming electric vehicle crossover (CUV). It was unveiled in March 2019, with delivery to the US market scheduled for mid-March 2020, and the European and Asian markets scheduled for 2021.
Similar to Model 3, it is Tesla's second mass-market model, and it shares many components. As an option, the Model Y has a third row of seats that seats seven people.
Tesla Cybertruck, 2022
Cybertruck was introduced in 2019, as an all-electric, battery-powered, light-duty truck. Three versions have been unveiled, with EPA range estimates ranging from 400–800 kilometers (250–500 miles) and 0–100 km/h (0–62 mph) times ranging from 2.9 to 6.5 seconds, depending on the model. Production will commence in 2022.
Take a look at which Tesla models, currently have an AutoPi TMU device installed.
Briefly facts about Tesla
Now and again, a company emerges that is daring and imaginative enough to disrupt an entire industry. When Ford originally produced the Model T (one of the earliest automobiles), it irrevocably altered the transportation sector.
Tesla is now a firm that is seeking to transform the transportation sector in the same dramatic way by making electric, self-driving vehicles the go-to vehicle design of the future.
Tesla has had many moments of glory and failure in their very brief lifetime.

Tesla's global revenue is estimated to be around $31.5 billion (FY 2008 to FY 2020).

Tesla's quarterly car deliveries throughout the world are estimated to total 241k (1st quarter 2016 to 3rd quarter 2021).

Tesla's quarterly operating margin is estimated to be around 14.6 percent (1st quarter 2019 to 3rd quarter 2021).

In 2021, Tesla delivered 936,000 vehicles, which is an 87% increase that puts the company at the pinnacle of the global EV industry, resulting in a 14% market share.
Short History of the Fortune 500 Company: Currently ranked 65.
Recently, the company maintained its growth in the first quarter of 2022, despite uncertainty and periodic factory shutdowns due to the COVID-19 pandemic in China, delivering 310,048 vehicles and posting record quarterly earnings. Tesla continued its meteoric rise up the rankings, climbing 35 spots from last year: ranking 100 to rank 65.
The Tesla Motors firm was created in July 2003 by engineers Martin Eberhard and Marc Tarpenning as a tribute to the inventor and electrical engineer Nikola Tesla.
Elon Musk joined the company's board of directors in 2004. Musk's goal for Tesla was to help solve the worldwide energy crisis by manufacturing high-quality, mass-market autos.
The company's objective is to develop a mass-market vehicle that does not require the use of fossil fuels. Tesla received a $465 million loan from the Department of Energy in 2009.
Tesla Motors Inc. renamed itself to "Tesla Inc" in 2017, as CEO Elon Musk seeks to convert the Silicon Valley corporation from an electric vehicle manufacturer to a diversified energy goods company.
Tesla is an American electric-car firm that produces not just all-electric vehicles, but also endlessly scalable sustainable energy-generating and storage solutions.
In 2019, the firm was the world's best-selling plug-in and battery electric passenger vehicle maker. In the first half of 2020, their vehicles accounted for 81 percent of all battery-electric vehicles sold in the United States.
Tesla's current offerings include electric automobiles, battery energy storage ranging from household to grid-scale solar panels, and other connected goods and services.
So far Tesla has received three Stevie Awards from the American Business Awards: Best Overall Web Design, Best Home Page, and Best in Automotive & Transport Equipment.