Sometimes an era must end and it is not fun at all. But you know what is fun? AutoPi Telematics Unit and it is available. With this guide we will walk you through how to maintain your precious data you have been collecting with your Automatic Pro and continue to enjoy the features you just cannot live without.
What is AutoPi?
AutoPi is an install-it-yourself IoT device which securely connects vehicles to the internet and helps users gain data of their automotive usage to provide a cheaper, safer and smoother way of driving.
Why AutoPi?
AutoPi delivers the majority of all the features you have been using with Automatic Pro and many more. Due to its open IoT platform, AutoPi also allows you to develop customized features and thereby enhance your vehicle performance through software only.
Another great argument is that AutoPi is fully transparent. Open Source Core means that users can actually gain full visibility into our code base and discussions about how features are developed. What you see is what you get and no strings attached.
Visual comparison of Automatic Pro and AutoPi: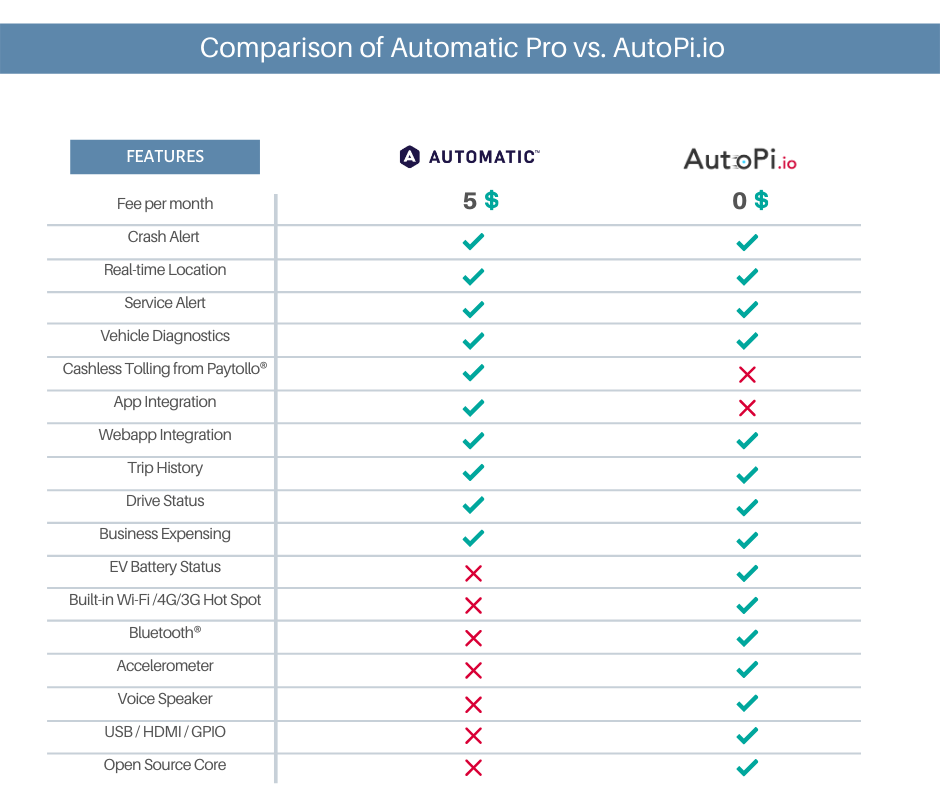 How to export your Automatic data
First you need to log in to the Automatic Web Dashboard on a desktop or a laptop computer at dashboard.automatic.com. Click on the "Export" button in the lower right-hand corner of the page. Once you click "Export", you will be presented with the following export options:
Export selected trips

Export trips currently in trip list

Export all trips
Once you select one of the above options, the data will download into a .CSV file on your computer. Note: If the web app freezes as it's trying to process the export, please try exporting a smaller date range.
Upload your data into AutoPi cloud solution
Currently The AutoPi Team is working around-the-clock to support transferring data from Automatic. Until then, keep a copy of your driving data locally and stay tuned for updates.
AutoPi hardware comes with an advanced cloud management platform that is fully customizable and flexible, depending on your needs.
For further questions don't hesitate to contact us.