AutoPi is the best IoT platform on the market right now. It consists of advanced hardware, with SaaS on top of that. AutoPi offers a customizable IoT platform for all companies that use vehicles for their daily operations.
In general, IoT platforms provide similar basic solutions, or they just simply work towards the same goal. How is AutoPi different? AutoPi offers customizable solutions, that fit exactly what your business is lacking at the moment.
IoT platform consists of three main pillars: software, hardware, and connectivity.
Software - The software is hosted in the cloud (see the AutoPi Cloud)

Hardware - The hardware is usually a device or sensor. Their function is to collect data from the environment or perform actions in the environment. (see AutoPi device)

Connectivity - The device needs a way to transmit all the data to the cloud or from the cloud. It can be accomplished by cellular, satellite, WiFi, and possibly more.
In order to make it as efficient as possible, it is recommended to integrate it with existing business systems and data streams.
Furthermore, It is very beneficial when used in bigger quantities, such as fleets (groups of vehicles). It will track and monitor all vehicles at the same time and strengthen its functionality.
IoT platforms provide built-in tools and capabilities to make IoT more efficient and cheaper for businesses, users, and developers.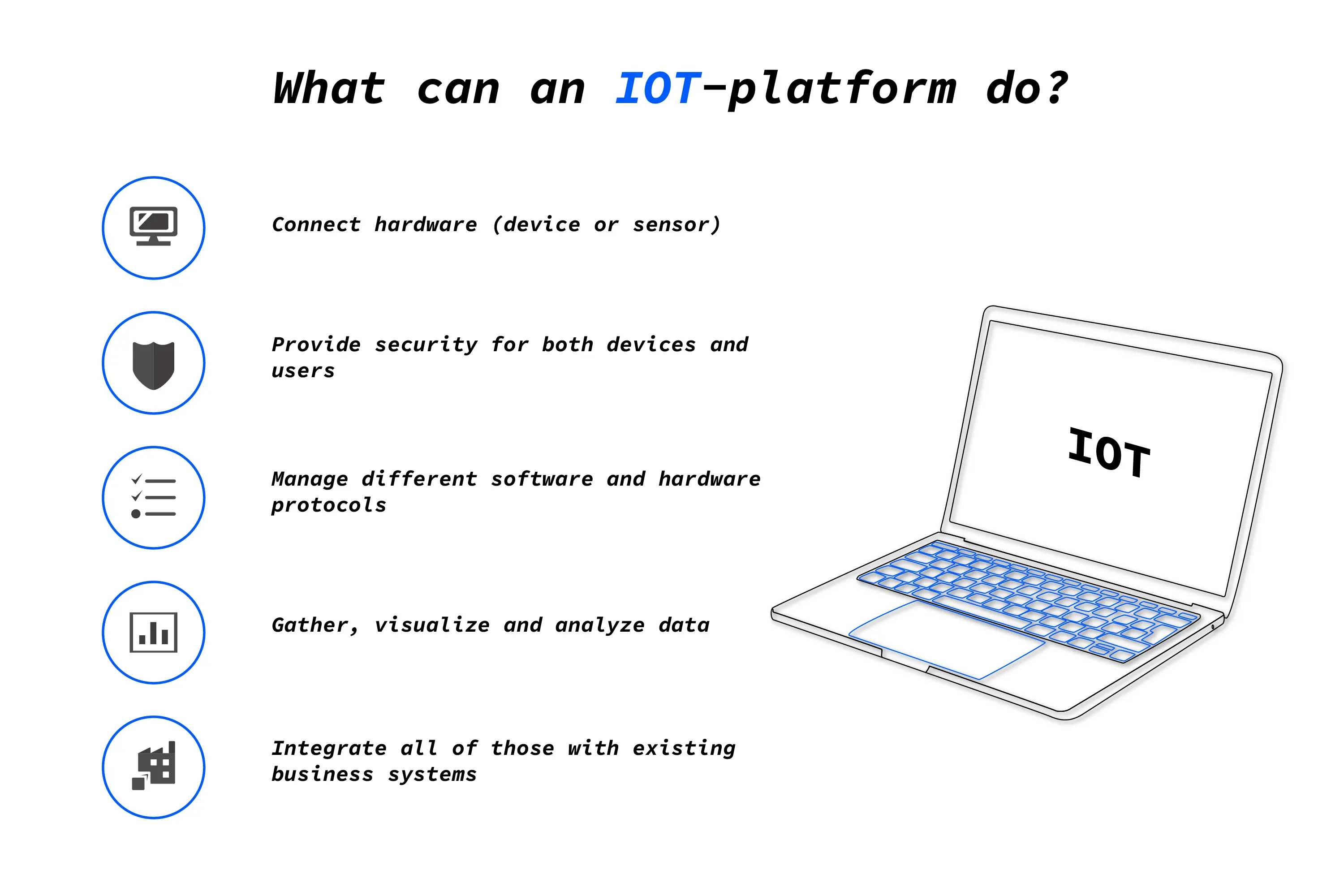 IoT Platform can help with:
Connect hardware (device or sensor)

Provide security for both devices and users

Manage different software and hardware protocols

Gather, visualize, and analyze data

Integrate all of those with existing business systems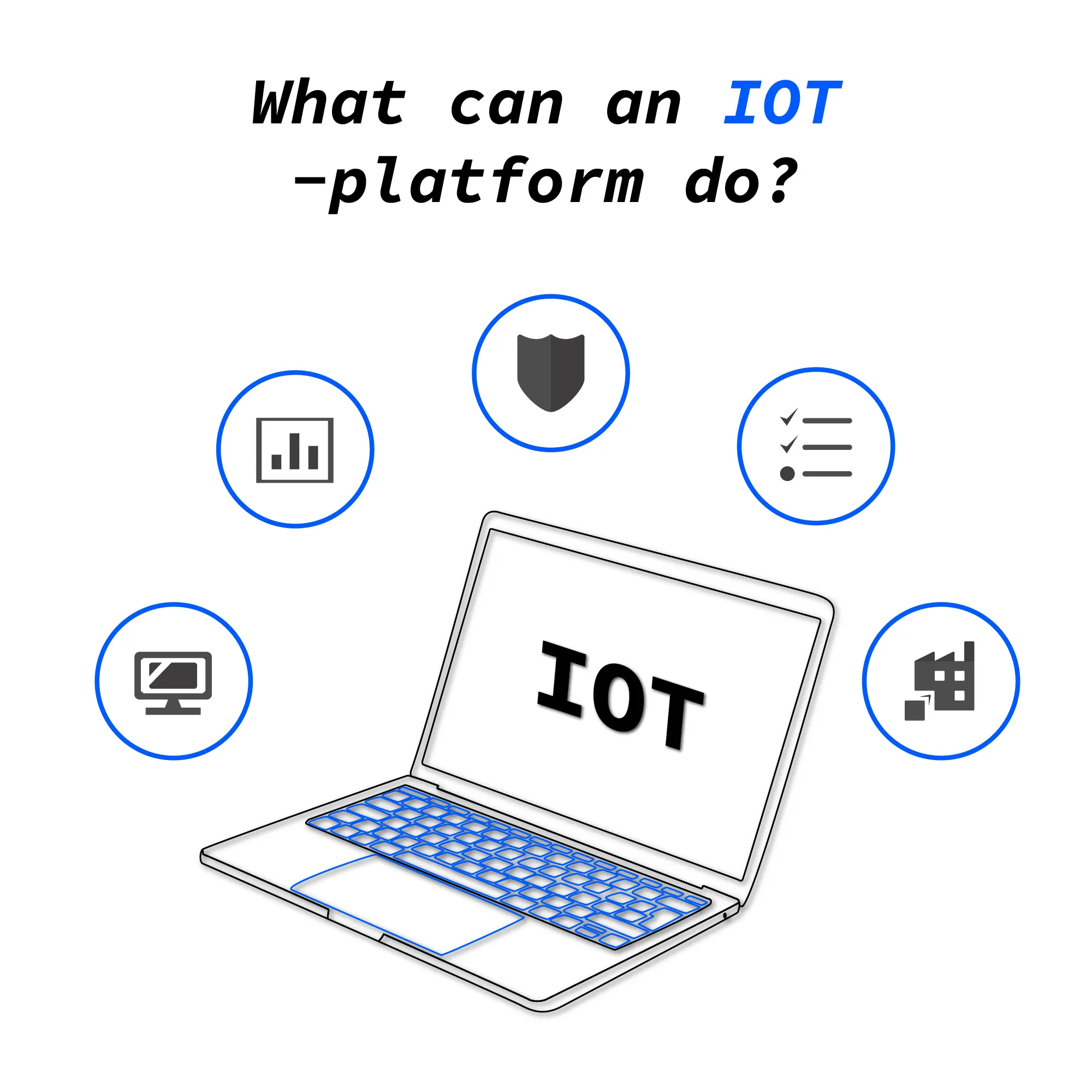 What is IoT?
IoT is an acronym for Internet of Things and it describes the network of physical objects. They are embedded with sensors and other technologies, in order to connect and exchange data over the internet.
Simply said, it's a system of internet-connected objects that can collect and transfer data at the same time, over the wireless network.
What is an IoT Platform?
An IoT Platform is a technology that enables the transition of data from the device to the cloud and vice versa.
It is also known as a middleware or mediator between the hardware and software. Its function is to include data collection from devices over protocols and networks.

AutoPi IoT Platform
AutoPi is the first IoT Platform with complete control of your business. AutoPi IoT platform can fulfill the needs of businesses with its functionalities and extraordinary features. See our IoT infrastructure: AutoPi TMU device & AutoPi Cloud.
The huge advantage when being used for businesses is total control over your business. You can track your car fleet completely and easily through the AutoPi Cloud and improve your business' overall doing at the same time.
A couple of main features of the AutoPi IoT platform for businesses are:
High-speed CAN Bus logging

High-speed accelerometer logging

Implementing custom DBC files

Configuring fleets with templates

OTA updates of devices
What is an AutoPi IoT Platform?
AutoPi IoT Platform is a combination of the the AutoPi Telematics Unit and AutoPi Cloud system. It allows you to add advanced features to your vehicle and in addition, gives you lots of extension possibilities.
The AutoPI IoT platform is software that is supported by hardware called Telematics Unit. The hardware can be easily connected via the OBD2 port in your vehicle.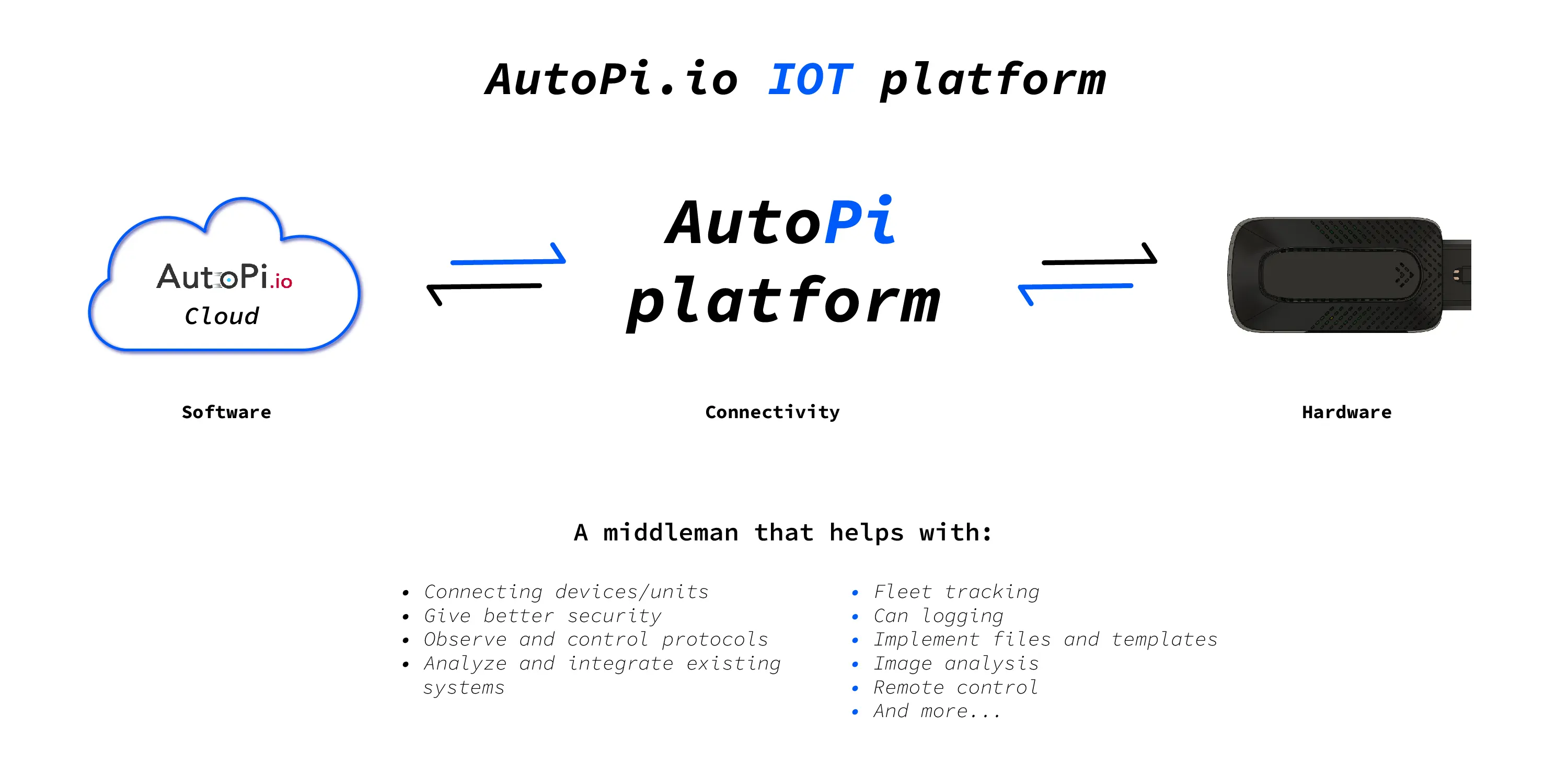 What features does the AutoPi IoT Platform bring?
Having the AutoPi Telematics Unit in your vehicle already brings you lots of value, such as monitoring your vehicle's health, collecting vehicle data, and possibly preventing future problems, e.g. black ice detection system.
Some of the most favorite benefits AutoPi solution brings are:
Remote control

Image analysis

Theft detection

External display/camera
These were just a couple of the most common features used by our users. The choice is yours. We will assist you with the whole process and help you to find the right solution for your current project/company.
Additionally, the AutoPi IoT platform also supports a wide variety of electric vehicles. Some of the functions can be Battery health, State of charge (SoC), Eco driving, Remoter charge notifications, Driving power, and Driving range per charge. Many of these and other functions can be achieved by communicating with electronic control units.
When Should I Use an IoT Platform?
IoT is a system of systems, in other words, a network of devices and software applications. Usually, companies do not have the expertise and relevant departments to handle all the operations.
If you are a product-oriented company, you might want to take your product to a new level. Instead of hiring a whole new department purely for that, you can easily use an IoT platform that will do the same and save you lots of time and resources.
However, it might end up costing you a bit more in the long run, depending on how much the IoT platform company will charge you.
Why Should I Use an IoT Platform?
As we already mentioned before, using the IoT platform is the most beneficial if you do not have an internal department to work on it. 'Outsourcing' some of your operations might be cost-effective, time-efficient, and easier than having it internally.
In conclusion, the IoT platform is an amazingly powerful and insightful 'tool' to use, depending on your or your company's needs.
Are you interested in knowing more about the AutoPi IoT Platform? Constant us on support@autopi.io and we will assist you further.