It's been four years since the Raspberry Pi 4 made its debut.
Now, as the anticipation reaches its peak, the Raspberry Pi 5 emerges, setting a new benchmark. With a starting price of $60 for the 4GB model and $80 for the 8GB version, this isn't merely an update; it's a total transformation.
Almost every element of the platform has been enhanced, ensuring a seamless user experience without any corners cut. The in-house silicon's addition, which supports PCIe 2.0, coupled with the performance enhancements, means the Raspberry Pi series continues to redefine what's possible in compact computing.
Let's dive into the top features that sets this new model apart from its predecessor.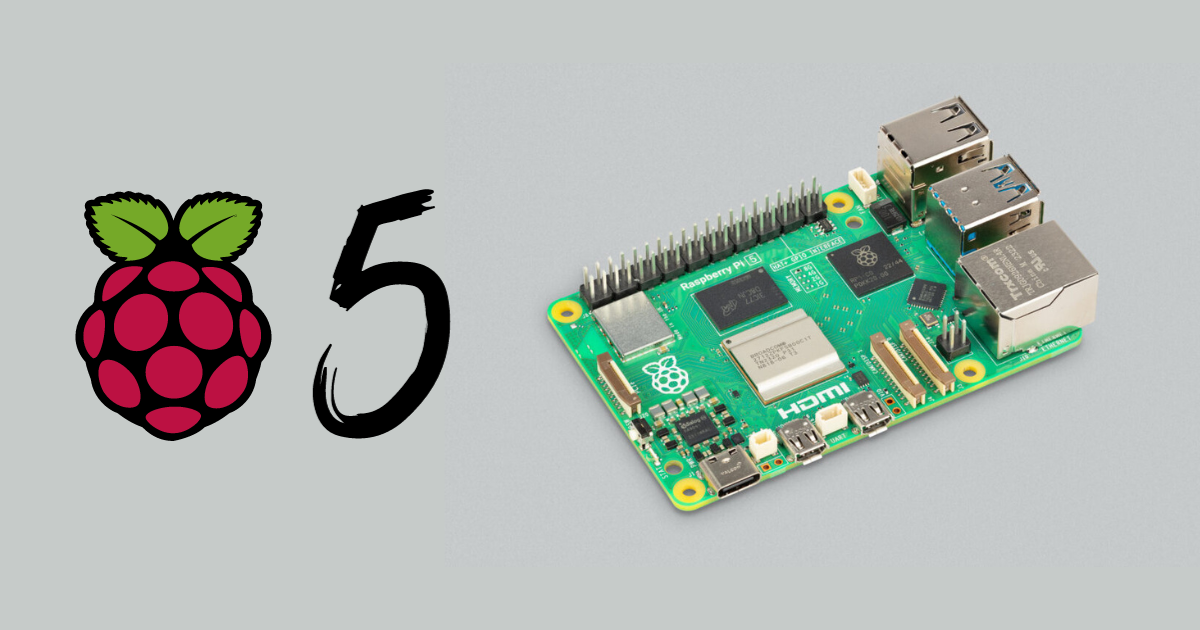 A Revolutionary New Platform and Chipset

The Raspberry Pi 5 is built on three new chips, offering a significant jump in performance. The highlight is the BCM2712, a 16-nanometer application processor from Broadcom. This is a complete contrast from its predecessor, the 28-nanometer BCM2711 in Raspberry Pi 4. The latest processor boasts a quad-core 64-bit Arm Cortex-A76 processor, with a faster speed of 2.4GHz. This is not just an upgrade; it's a complete overhaul.




Improved Graphics and Multimedia Capabilities

The Raspberry Pi 5 comes equipped with Broadcom's new VideoCore VII GPU, capable of supporting two 4Kp60 HDMI displays simultaneously. This marks an improvement from the previous version, which could only handle one 4Kp60 or two 4Kp30. A 4Kp60 HEVC decoder and a new Image Sensor Pipeline enhance the multimedia experience further, promising sharper visuals and smoother operations.




A Look at the RP1 Chip

Breaking away from the gigantic architecture of previous versions, the Raspberry Pi 5 introduces a chiplet architecture. While the AP handles the major digital functions and fastest interfaces, most I/O functions are delegated to an I/O controller, leading to better performance and cost efficiency.

The RP1 chip is this I/O controller, providing a variety of interfaces, from USB connections to GPIO. It's a product of years of development and is the most significant and expensive program Raspberry Pi has undertaken.




Power Management Like Never Before

Every sophisticated piece of tech needs an advanced power management system. The Raspberry Pi 5 employs the Renesas DA9091 power-management IC. This is intricately designed to cater to the board's power needs and even includes an external real-time clock and a PC-style power button, catering to user convenience.




Retained and Refined Features

While there are many new introductions, certain elements from the Raspberry Pi 4 remain, but with improvements. For instance, the dual-band 802.11ac Wi-Fi and Bluetooth 5.0 are powered by a dedicated switched power supply rail for optimized power consumption.




Design and Form Factor Evolution

At first glance, the Raspberry Pi 5 looks familiar. However, changes in design align with the capabilities of the new chipset. Gone is the four-pole composite video and analog audio jack, replaced by FPC connectors, enhancing connectivity options.
Conclusion: The Future of Raspberry Pi 5 and AutoPi TMU
The Raspberry Pi 5 isn't just another iteration; it's a technological leap forward. With enhanced performance, improved multimedia capabilities, efficient power management, and refined design, it promises to redefine what compact computing solutions can offer.
The AutoPi Telematics Unit (TMU) has always been based on the Raspberry Pi. With the advent of the Raspberry Pi 5, the capabilities of the AutoPi are set to expand exponentially. The increased processing power, enhanced multimedia support, and efficient power management will ensure a smoother, more efficient performance of AutoPi systems. For those invested in the AutoPi TMU system and CAN bus integrations, the integration of the Raspberry Pi 5 heralds a new era of efficiency and power.
The Raspberry Pi 5 will be available to purchase before the end of October.