We have spent the last year researching ways to make an impact for our customers and create a faster, more efficient and easier upgradable unit.
Therefore, we are very proud today, to announce the launch of the AutoPi Telematics Unit (TMU) Pi3, the 3rd generation device.
This new generation is a big step up compared to our previous models in processing power. Now featuring a Quad-core Cortex-A53 CPU, it's by far superior to the previous generation. But it can do more.
AutoPi TMU Pi3 is powered by a Raspberry Pi 3 model A+, equipped with a real-time clock battery, HDMI and micro USB connection, 32GB High Endurance SD card, two status LEDs, and a Mini Jack Out.

What is telematics unit?
Telematics unit or also known as Telematics Control Unit (TCU) refers to the embedded system, which is on board of the vehicle and connects to the vehicle and the cloud.
Typically, the telematics unit can be connected via OBD2 port in the vehicle and the data can be seen on the laptop, smartphone, dashboard or special obd2 scanner.
The telematics unit collects telemetry data from the vehicle, such as speed, position, connectivity, engine data and more. the TCU is very beneficial for any use of vehicle, regardless the purpose of the vehicle.
However, it can bring lots of cool features and improve driving experience of a driver or the whole family. Some of the most favorite features are heads up display, theft detection, car wifi hotspot or voice command recognition.
Telematics unit is commonly used in businesses, more specifically in fleet management, as it improves the efficiency of the fleet (group of vehicles that engage in one common activity) and therefore, the logistics of the actual business.
Telematics Unit uses satellite navigation (GPS), as well as electronic mapping tool to monitor the position of the vehicle at all times. It is possible to monitor it even if the vehicle has been stolen.
Benefits of Telematics Unit
Telematics Unit can bring you lots of benefits. There are many more additional aspects that we do not even realize telematics unit is capable of.
One of the automotive industry trends is the connectivity and AutoPi Telematics Unit can actually connect your vehicle to the cloud and bring you additional features that you did not even know exist.
Connectivity - Capable of connecting your vehicle to cloud, collect data and 'communicate' with your vehicle. It is possible to connect several vehicles to monitor them at the same time.
Antenna optimization - It is possible to adjust antenna power optimization with with better sensing, diagnostics and low noise.
Reliability - Telematics Unit is reliable, efficient and offers fast data transmission that enables communication to other systems in the vehicle.
Driving assistance - AutoPi Telematics Unit can improve your driving experience. Check out our use cases page, where you can find lots of examples on how TMU can help you.


Despite of the large number of benefits that Telematics unit brings, people still think the price is too high and is not worth it. If you are barely using your vehicle and you do not really pay much attention to the health of your vehicle, then it might be true.
On the other side, if you are using your vehicle regularly or it is part of your daily job, then it is definitely worth it. Think about how much you spend at a mechanic a year and what are your vehicle's features or functionalities. Then consider everything that Telematics unit brings you.
It improves your vehicles' 'health', notify you of its current situation, improves your driving experience, gives you lots of additional possibilities and on top of that, it can even help your whole family while using the vehicle. There are seriously only benefits for having a Telematics Unit in your vehicle/s.
Better Display
Due to its Broadcom BCM2837B0 64-bit Quad-core CPU, 512MB RAM and integrated GPU, AutoPi Telematics Unit supports recording and displaying HD resolution videos. Use it for image recognition and machine vision in advanced projects.
Accessing connectivity where others can't
AutoPi TMU Pi3 is designed to be easily upgradable to a Pi 3 Model B+ or Pi 4 and enable high speed data transmission and bandwidth via ethernet connection.
One of the main advantages of Ethernet is that it is typically less vulnerable to disruption therefore, offers a high-performance network and greater degree of network security. In newer cars, ethernet runs alongside traditional vehicle cabling used for in-car connectivity, allowing all vehicle components to be securely connected.
Filling the gap (optional on large orders)
Earlier generations use accelerometers to detect the orientation of the unit. As an optional feature AutoPi TMU Pi3 accelerometers can be expanded with a gyroscope to fill in its lateral orientation during a movement.
This Bosch Sensortec BMG250 gives that additional information by tracking the rotation and twist of the device. This gives a both clear and responsive data output on the device's physical orientation.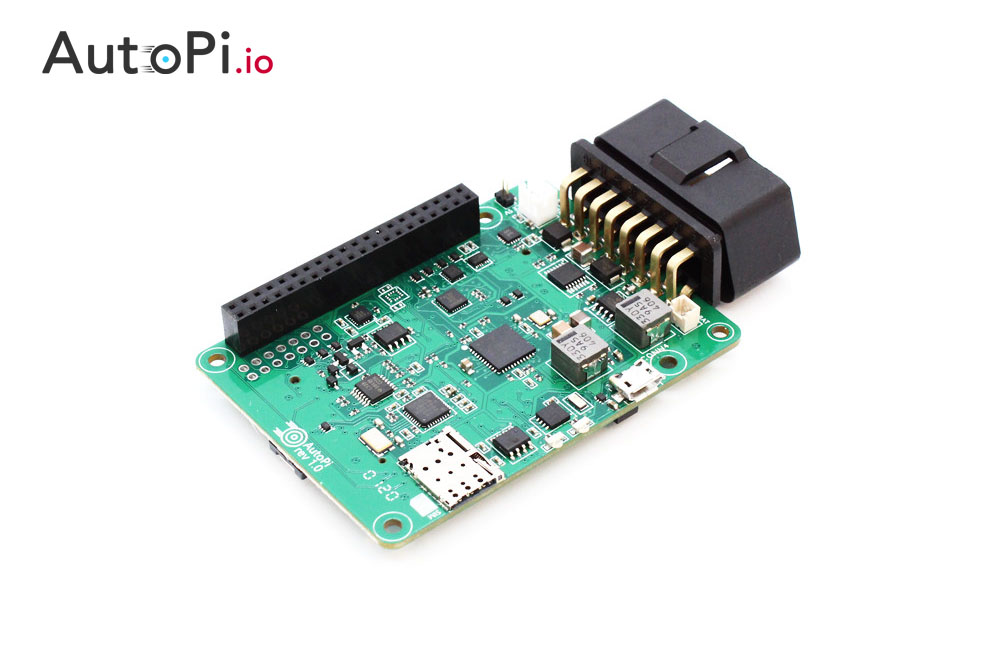 AutoPi Telematics Unit Pi 3 is available in our webshop in 4G/LTE Edition, W-Fi/NB/Cat M1 Edition or in DIY Edition.
AutoPi Telematics Unit Pi 3 has undergone extensive compliance testing and meets a number of international standards. View relevant certificates.
Do you want to know how to set up your AutoPi 3rd generation telematics unit? Check out our guide on how to set up your TMU DIY edition.
For further information, please contact us at sales@autopi.io