What is Carsharing? And do we live in a Carsharing industry?
Carsharing is a growing field within the car rental industry, and not just in the US, but also in places like in Denmark and several other countries. So, what is "Carsharing"?
The concept of carsharing comes from the "sharing economy", in which certain parts of the private sector is becoming more and easily accessible through sharing between private parties and with the help of a developing platform.
An example of such a platform is Airbnb, which let private homes being lent out and shared with people in need of accommodation as an alternative to hotels.
This same method and concept is now growing within the car rental industry, where Uber, Lyft, Pogo Carsharing and GoMore here in Denmark are all platforms, in which public transportation has become sharable or also known as the "shared mobility economy."
Definition of Carsharing:
Carsharing is primarily designed for shorter time and shorter distance trips as an extension of the transportation network, providing a public service designed to enhance mobility options.
This is attractive to customers who make only occasional use of a vehicle, as well as others who would like occasional access to a vehicle of a different type than they use day-to-day.
The organization renting the cars may be a commercial business or the users may be organized as a company, public agency, cooperative, or ad hoc grouping.
Carsharing is part of a larger trend of shared mobility. Shared mobility includes all modes of travel that offer short-term access to transportation on an on-needed basis either for personal transportation or goods delivery. Source: carsharing.org and sharedusemobilitycenter.org
Carsharing in Denmark
In Denmark, the platform GoMore allows you to catch a ride with a driver or owner of a car. For example, a normal average sized 5 seater family car can have space for 4 other passenger besides the driver.
Thus, allowing the driver or owner of the car to earn money (or splitting the transportation costs) while going to a destination they were already planning on going by picking up people headed that way as well.
These people headed to the same place as you and roughly around the same time and also paying for their "share" of the ride would be a fraction what it would cost for a bus, train or plane ticket.
This sharing economy is opening up and allowing new opportunities in regards to sharing your vehicle for short amount of time and even sometimes by the hour.
GoMore gives you multiple of options within the shared economy, you can either loan out your vehicle for small periods of time, catch a ride with someone with the same destination as you or lease a car through GoMore with one of their fleet vehicles and then when you are not using it, loan it out to other GoMore customers.
Carsharing benefits individuals who can gain the benefits of private cars without having costs and responsibilities associated with car ownership. Instead a household accesses a fleet of vehicles on an as-needed basis. Carsharing may be thought of as organized short-term car rental.
How does Carsharing work with AutoPi?
The AutoPi is able to reduce some of the concerns and obstacles with short term car sharing, through its many features.
The "parental control" feature which entails the curfew and geofencing capabilities complements the need and specific aspects of the Carsharing industry.
In today's Carsharing industry, if a private person want to use one of the many platforms to lease out their car or share it with, for example, GoMore, the AutoPi dongle is useful in how it is utilized to keep a continuous status update and diagnostic running on the vehicle in question.
Geofencing
A geofence is a way of setting up rules based on the geographical location of the vehicle. This is very useful if you want to setup rules within a specific area.
Or the other way around, if you want to forbid access to certain areas. An example of using geofences could be:
Sound buzzer in car if geofence is breached

Speak text in car if geofence is breached (using a voice translator i.e. Google Voice API), like "Geo-fence breached, please return to allowed area"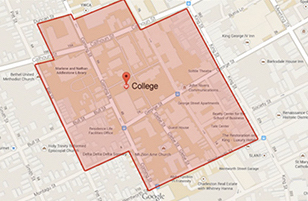 For example: In a scenario where you use one of the Carsharing platforms to rent out your car, you could with the AutoPi TMU CAN use the geofencing feature to ensure that the your vehicle do not leave the geographical location you have limited it to without your knowledge, therefore ensuring that your vehicle is limited to a specific area.
Read more about this subject here.
Curfew times
A curfew is a way of limit the use of the vehicle, based on time. You could limit the use of the car to daytime only. An example could be: Curfew between 11PM and 7AM. Speak text in car if curfew is in less than 30 minutes
Any combination of all of the above could be made using the built in if-this-then-that system. And the rules could be combined with a lot of other systems as well. You configure your own system and setup the rules you want to enforce and who you want to enforce them on.
Data flow in the AutoPi
The image below gives an overview of how the flow of information is between all systems and how they work together: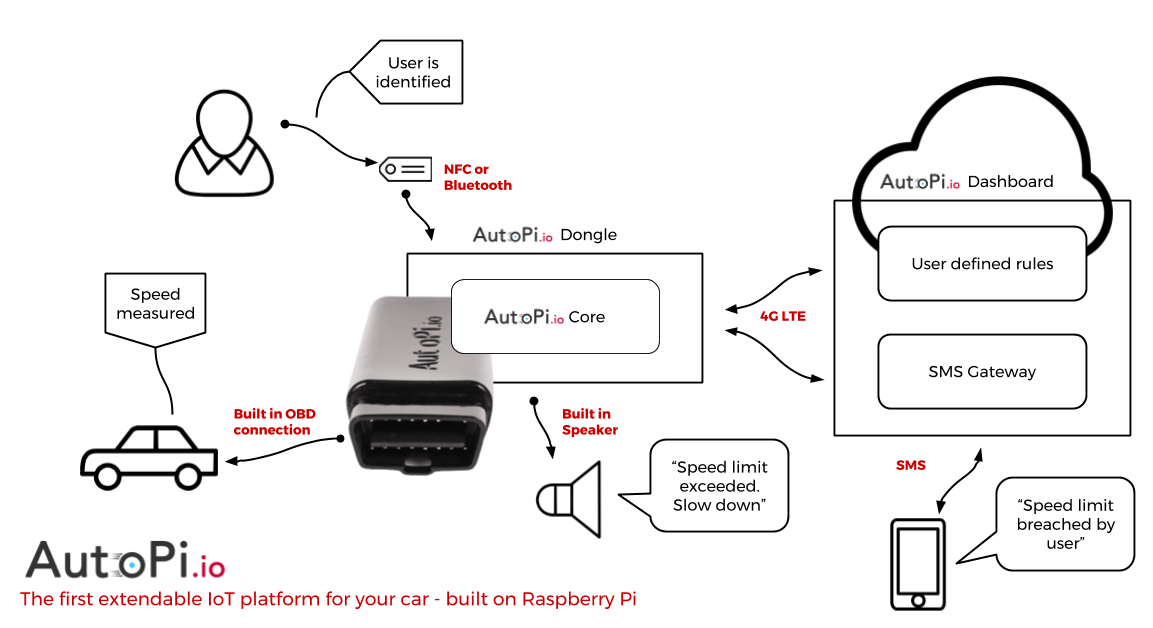 The user is identified on entering the car, this could be done through Bluetooth or with an external NFC reader. The AutoPi dongle connects to the car and ensures communication with the car.
User based rules are downloaded to the AutoPi dongle from a cloud dashboard. Warnings to the owner of the car is send from the Cloud. Warnings to the driver of the car is send through the built in speaker.
This is but one of the few ways that the AutoPi Dongle complements the shared mobility industry and how it works within the field. Another way that the AutoPi devices complements the shared mobility industry is in how one can manage a fleet of carsharing vehicles on a corporate level.
This is done in similar fashion and on the same premise as the commercial car sharing, but whereas the business will have a fleet of vehicles readily available in parking lots or warehouses spread around a city, for people who rent them out.
This is where AutoPi comes in, for example, AutoPi can create the software for an app for a shared mobility enterprise fleet for a business that would a customer to sue the app, and "unlock" the vehicle he or she have booked and can thus utilise for the period they have paid for, in which case it will "lock" again when the customer is done.
Furthermore, the AutoPi Dongle also monitors the car health of the fleet and can continuously run diagnostics so the business can stay up to date on the status of each vehicle and if any errors or problems should arises the AutoPi can flag them and thus they can be solved as soon as they are discovered.
We hope this has given you an idea of what the AutoPi is capable of in regards to Carsharing and leasing out your vehicle in short term sharing.