ISOBUS, also known as ISO 11783, is a communication protocol for the agricultural sector that is based on the SAE J1939 specification. It is recognized as "Tractors and machinery for agriculture and forestry – Serial control and communications data network".
Tractors and mounted, semi-mounted, towed, or self-propelled tools are examples of modern agricultural and forestry equipment. These vehicles make use of an on-board electronic equipment for real-time communication, data collection, and analysis.
Since the ISO 11783 protocol was originally released in 2001, several major manufacturers have worked to become compatible with the standard by implementing software on equipment to conform with the regulations ISO 11783 specifies.

---
What does ISOBUS stand for?
ISOBUS can be divided into two words - 1. ISO, and is an acronym for International Organization for Standardization, which is an indication of a global standard. 2. BUS, and it refers to the movement of data from one location to another.
---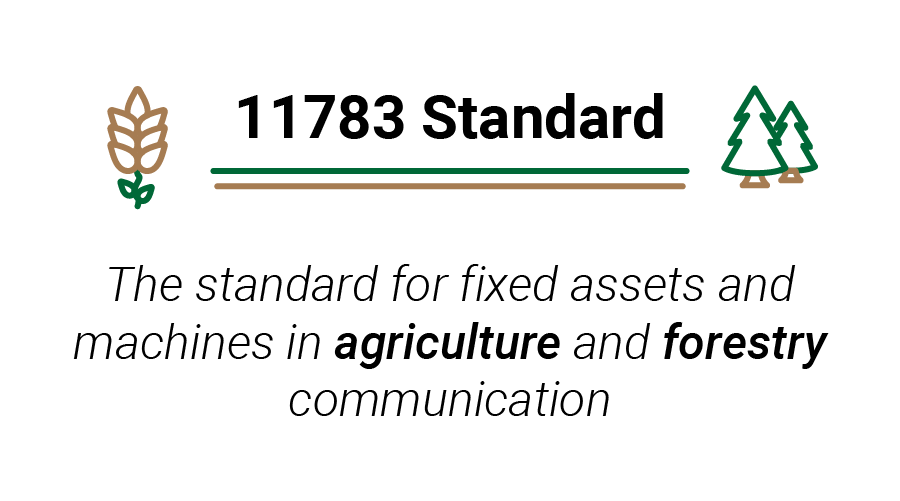 What is ISOBUS?
The ISOBUS protocol is a standard protocol that allows for the management of communication between tractors, software, and equipment from major manufacturers, allowing for the interchange of data and information in a universal language via a single control in the tractor's cab.
Thanks to ISOBUS, the cab changes into an authentic on-board computer that can operate the tools and implements, ensuring real-time information interchange. This means that the tractor's computer and implements may interact with one another. This eliminates the need for separate computers for each implement, such as a sprayer, seed drill, plow, etc.
In short, ISOBUS is a common standard for how data is transferred from one location to another, and ISO 11783 is the name of that standard that has been accepted for how fixed assets and machines in agriculture and forestry communicate with one another.
Its objective is to build data transmission interoperability and compatibility between sensors, actuators, control units, memory, and display units in these tractors or any implements. This is achieved by defining a serial data network for control and communication between the various electronic control units (ECUs) interconnected by the in-vehicle network.
As a result, ISO 11783 specifies an Open System Interconnections (OSI) paradigm for agricultural and forest equipment.

What is ISO 11783 standard?
The ISO 11783 provides a serial data network for control and communication in agricultural and forestry tractors and machinery, is implemented using ISOBUS software stack.
The ISOBUS software stack is usually a pre-packaged software solution that has been created in accordance with the ISO 11783 standard. This enables inter-vehicle network connection between tractor and implement ECUs.
ISO 11783 is an offshoot of the J1939 specifications and is a widely used software solution in commercial vehicle applications. Furthermore, J1939 contains the CAN BUS, a durable automotive bus standard that allows communication between on-board microcontrollers and devices.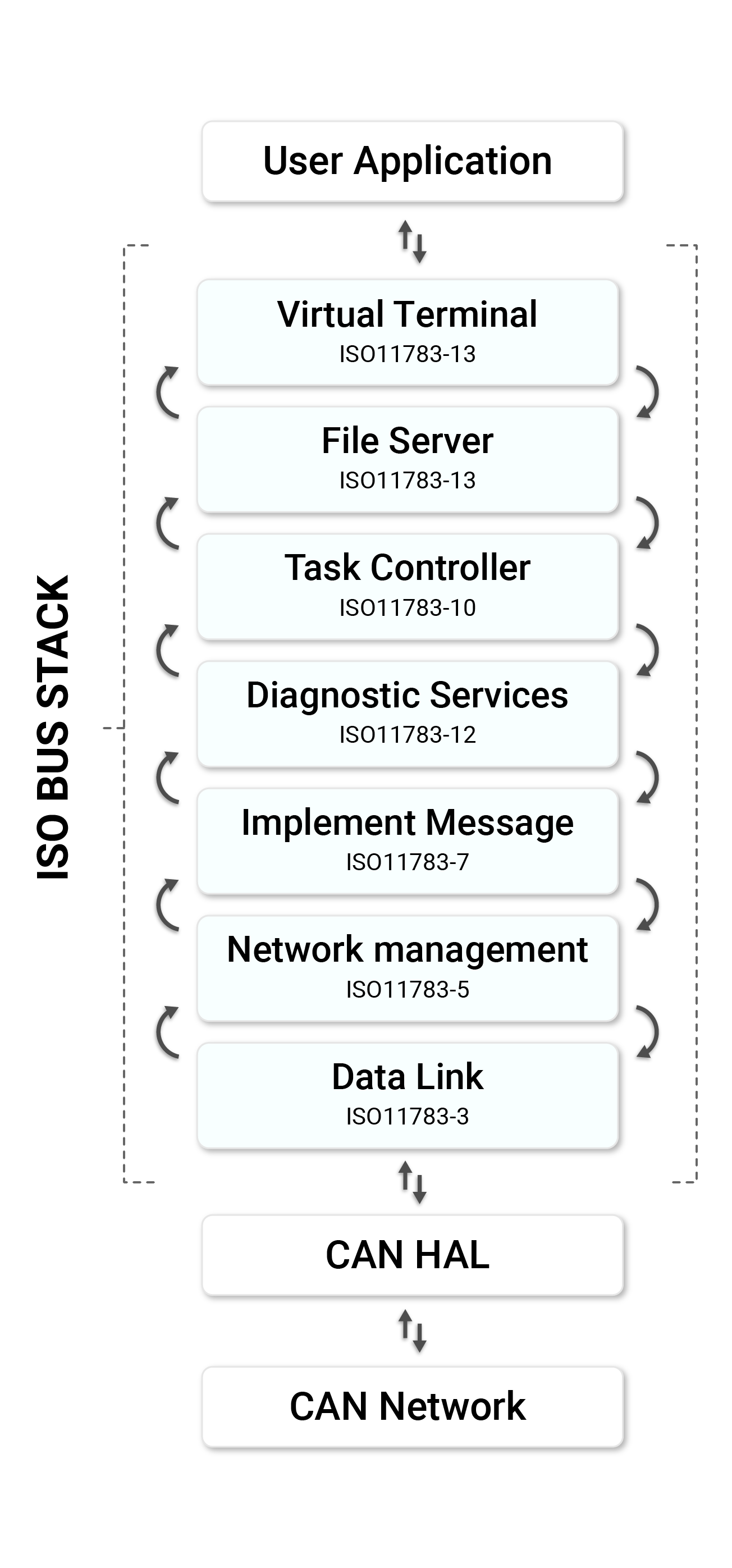 The ISO 11783 standard comes in 14 parts: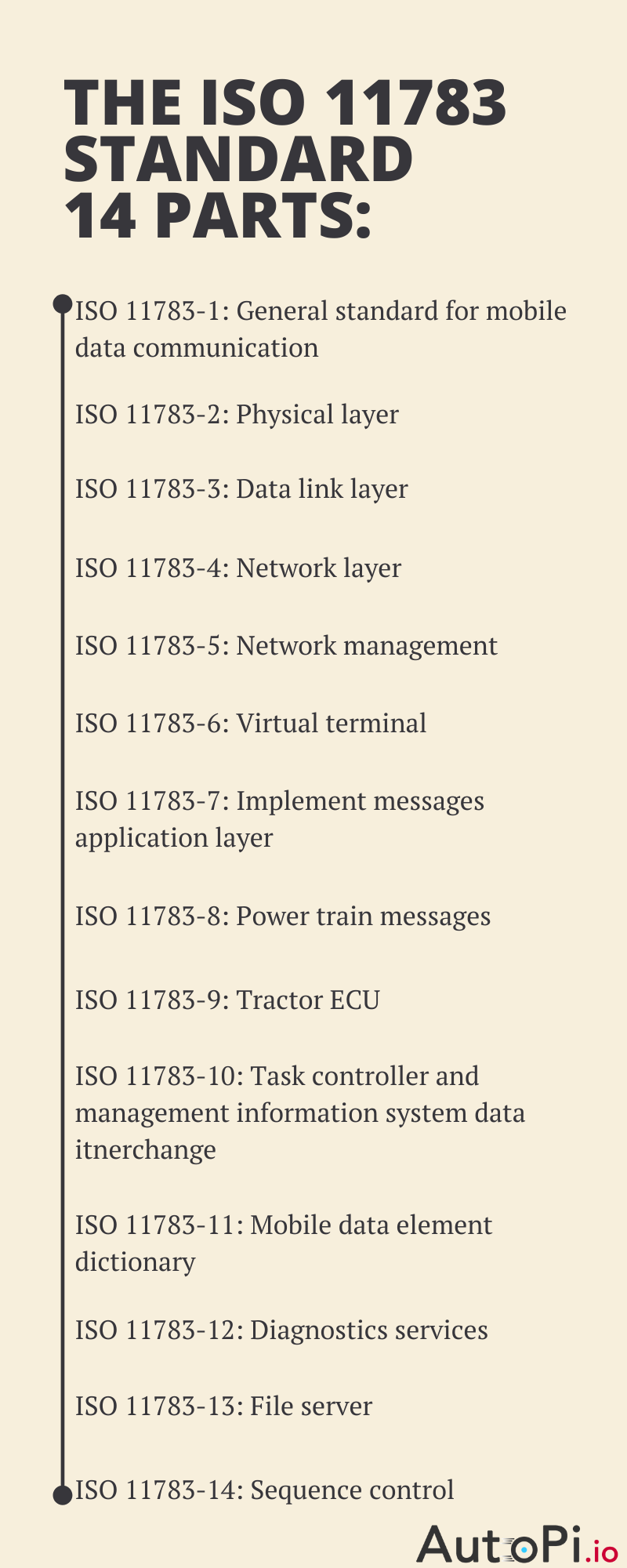 How does ISOBUS work?
When all agricultural and forestry goods speak the same language, all implements linked to a tractor are immediately read and their data is fed into the same onboard controller, i.e., ISOBUS.
The ISOBUS system comprises of two primary components:
The Universal Terminal (UT) enables machines to run an implement with any terminal and function with many accessories.

The Task Controller (TC) records and reports on operations and aids in planning. According to their situation, the operator and agricultural or forestry management may choose to read any accessible data.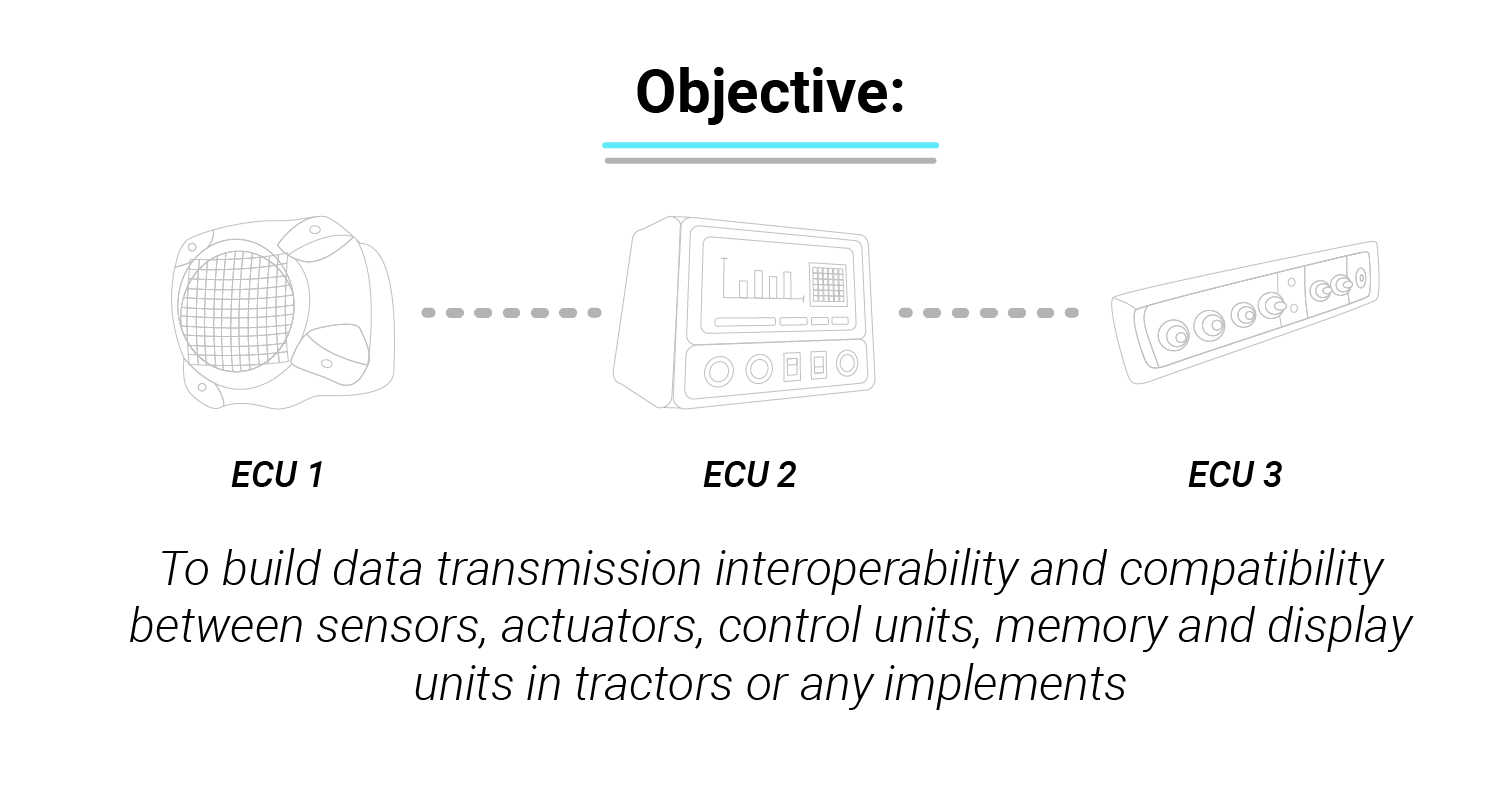 Advantages of ISOBUS
One of the primary advantages of ISOBUS, is that you no longer require a computer for each piece of equipment; instead, you just need one computer to connect to an ISO 11783 compliant tractor through plug-and-play, employing the ISOBUS connector pinout. ISOBUS provides the assurance of complete interoperability between tractors and agricultural or forestry implements of all brands and models. ISOBUS relies on the flexibility and diversity of information available.
Standardization of control setting, improved cabin visibility, and easier connection between tractors and implements are just a few of the benefits, not to mention the cost savings when employing several ISOBUS implements. Another significant advantage is that ISOBUS enables variety monitoring from planting to harvest, allowing you to collect data, while easily and correctly analyzing variety of performance from every field.
ISOBUS offers six primary advantages.
Simplifying: Regardless of manufacturer, a single display in the cab controls many tools and apps.
Simple connections: The standardized, nine-pin connector makes connecting various equipment to your tractor a breeze.
Increased efficiency: Transfer data between your PC and the display with ease.
User-friendly: ISOBUS standardizes control settings, saves downtime, decreases interface issues during installation, and removes the requirement for platform calibration.
Less money spent: You only need to buy one display for all manufacturers and types of equipment.
Insightful data: ISOBUS is crucial for the production of faultless precision farming paperwork that will assist you in optimizing your operation.
Conclusion ISOBUS
The adoption of ISOBUS standard "revolutionize" agriculture and improve competitiveness by allowing farmers to operate more efficiently. Therefore, simplicity of use improves the quality of work and, as a result, the output. Work can be finished faster and more precisely.
Inaccurate information regarding pesticide amounts, soil conditions, and other external factors that affect plants development is avoided, and cost are reduced as an outcome.
When utilizing ISOBUS, inefficiencies may be eliminated by creating a standard and interoperable interface between tractor and any connected implements. One ISOBUS terminal replaces a multitude of other terminal types on the tractor consequently.
Regardless to the equipment's manufacturer, ISOBUS specifies that clear field practices are recorded and documented. A protocol for sharing data with the farm's computer system is included. A task controller can be used to capture operational data and then convey it to the implement while it's working in the field.