The Meaning of DVIR - Explained
Authored by autopi 04 Jan, 2021
— A Driver Vehicle Inspection Report (DVIR) is a legal requirement in the United States and is being done daily, by drivers, to ensure the vehicle's health and road safety.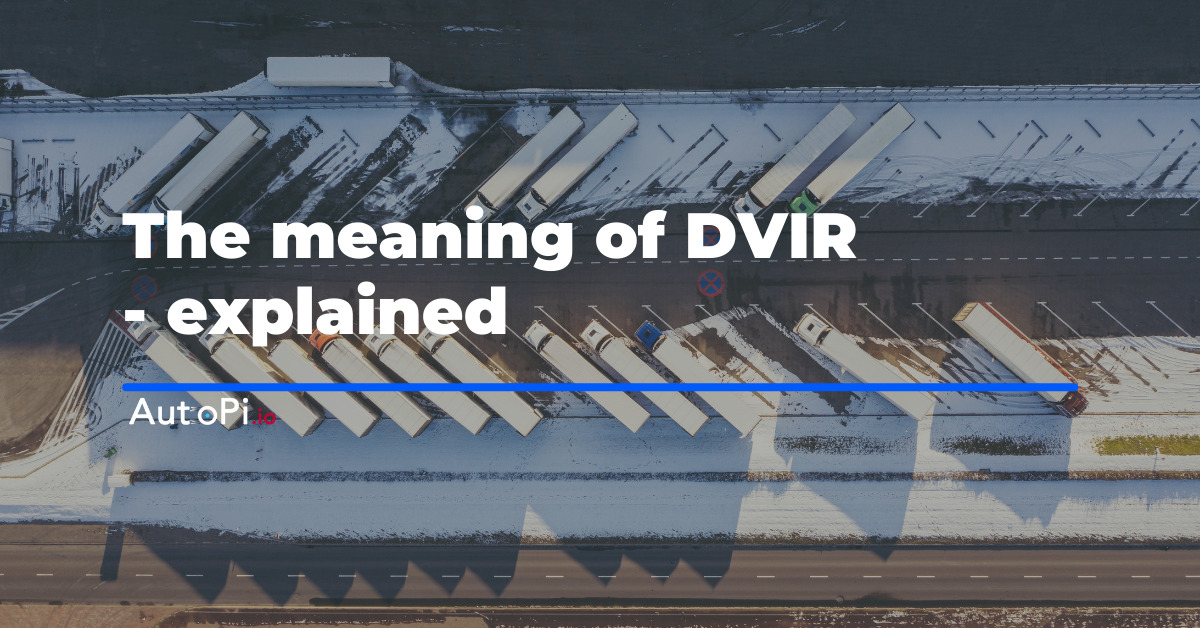 The weather is perfect, you're having a great day. The dispatch confirmed that everything is ready, the route is planned, and you're ready to hit the road. But you forgot the most important task, the vehicle inspection.
Forgetting this important step might be hazardous not only to you and the trucking firm, but also to other cars on the road. Furthermore, if you are discovered failing to do vehicle inspections, you might face fines of thousands of dollars.
In this article, we'll go over all you need to know about DVIRs, including pre-trip inspections, post-trip inspections, DVIR laws, DVIR inspection checklist, and more.
What is DVIR?
DVIR is a Driver Vehicle Inspection Report. DVIRs are enforced by the Department of Transportation (DOT) and specified by Federal Law 49 CFR 396.11 and 396.13.
The purpose of the report is a confirmation that the driver completed an inspection on a commercial vehicle and it is safe to use. The driver is obligated to do the inspection at the beginning and at the end of the day. It is also called pre-trip and post-trip inspection. Driver vehicle inspection report is done daily and ensures vehicle's health and road safety.
Read: Driver management system
The DVIR report can be completed either on paper or electronically. Obviously, the electric version of the report (eDVIR) is more efficient when gathering the vehicle data, especially for those who can take advantage of vehicle inspection functionality on their Electronic Logging Devices (ELDs) for a further inspection.
From the date the report is submitted, it must be kept for three months. The report must be also submitted at the place of business or where the vehicle is housed.

What does a DVIR include?
Brakes and air system.

Tires, wheels and rims.

Safety and emergency equipment.

Rear view mirrors.

Steering mechanism.

Lights and reflectors.

Windshield wipers.

Coupling equipment and an extra wheel.
What does a DVIR process look like?
A driver should take a walk around the car, check for possible defects or damages and then start a car to check the remaining aspects of the DVIR.

If a driver finds a defect on a vehicle, he/she must report any defect/damage that can have an impact on a vehicle's safe operation.

The driver is then obligated to sign the report and hand it in to the commercial motor carrier.

Motor carriers then must repair any defect or damage on a vehicle and ensure that vehicle is safe to use.
Is a DVIR required?
Yes, it is required as it helps to maintain the driver's safety as well as safety of all others on roads.The goal is to reduce the number of total accidents, prevent any unnecessary crashes and increase the road safety in general.
According to the Commercial Vehicle Safety Alliance (CVSA), there are approximately four million inspections being conducted every year.
The specially trained inspectors who ensure the vehicle's 'health' based on the North American Standard Inspection Program, are responsible for carrying out the roadside inspections.
It is crucial to conduct a DVIR at the start of the day, as well as the end of the day;
A driver's shift must begin with a review of the vehicle's most recent DVIR. If any faults were discovered during the last post-trip inspection, these must be evaluated and signed off on. With a comprehensive check of the vehicle, the driver must also certify that the other aspects of the commercial motor vehicle are in acceptable shape. This is known as the pre-trip examination and is established in Federal Law 49 CFR 396.13.
The truck driver must do a walk around examination of the vehicle at the end of the day's operation. This is mandated by Federal Regulation 49 CFR 396.11. If the driver runs more than one vehicle, a DVIR for each vehicle must be completed. If any problems are discovered, the truck driver must notify their fleet management so that appropriate action may be immediately. Prior to the implementation of the no-defect rule in 2014, paper forms were needed to be filed even if no flaws were discovered during an inspection.
According to federal DVIR requirements, defect reports must be preserved for three months.
Are there penalties for non-compliance?
The non-compliance with DVIR regulations will lead to fines from the Department of Transportation (DOT).
Another issue is that if the vehicle was found unsafe to drive, it is not possible to drive until repaired and will be considered as Out of Service (OOS).
On top of that, the carrier's CSA score could be affected and lead to a loss of good reputation.
What is CSA score?
CSA score is short for Compliance, Safety and Accountability. Scores are compiled by collecting data from crash reports, roadside inspections, investigation results and registration details.
What is my CSA score?
Are you wondering how to check your CSA score? It's easy and free. Visit the official CSA website, and then enter your US DOT number and US DOT PIN into the SMS login page.
Visit the website here.
In case you do not have a PIN, you can request it from the USDOT and it will take approximately 4-7 days.
FMCSA uses the CSA score as an indicator for high-risk motor carriers and drivers. It only apple son drivers operating commercial vehicles, not personal vehicles.
The CVSA has completed an International Roadcheck in 2018, where they gathered very interesting numbers to look at. We will show you two main categories of violations, driver OOS and vehicle OOS.
Firstly, we will look at vehicle violations. The highest percentage of 28.4% was brake systems. The second highest of 19.1% was tires/wheels, following closely behind brake adjustment, with 16.3%.
These are three biggest groups of vehicle violations. The following three were cargo securement, lighting and suspension.
Driver violations results also showed interesting numbers with hours of service as the biggest group with 43.7%. The second place was wrong class license with 21.4% and the third one was false record of duty status with 10.2%. Source
How can AutoPi help?
Having AutoPi telematics unit in a fleet management can help prevent any future penalties or fines. Simply connect the AutoPi dongle into the OBD 2 port and start monitoring current 'health' of your vehicle or fleet.
You can monitor the data through your smartphone or laptop and it's very easy to use with the AutoPi server. Contact us for more details or check out our latest 3rd generation to find our more.
---
We at AutoPi honestly hope you found the information you were looking for. If not, do not hesitate to send us a sales inquiry.