If you're involved in the Commercial trucking or public transportation industry, you've probably heard the term "DVIR" before. But what is the meaning of DVIR? And why is it important?
In this article, we'll go over all you need to know about DVIRs, including pre-trip inspections, post-trip inspections, DVIR laws, DVIR inspection checklists, and more.
What is DVIR?
DVIR is is an abbreviation for "Driver Vehicle Inspection Report". It is a report that truck drivers must complete daily to confirm that their vehicle is safe and operational. Before a vehicle is driven on the road, DVIRs are used to discover any faults or issues.
The purpose of the DVIR is to help ensure that commercial motor vehicles are maintained and operated safely. Commercial vehicles are subject to several restrictions, including those imposed by the Federal Motor Carrier Safety Administration (FMCSA), which require drivers to do pre- and post-trip vehicle inspections.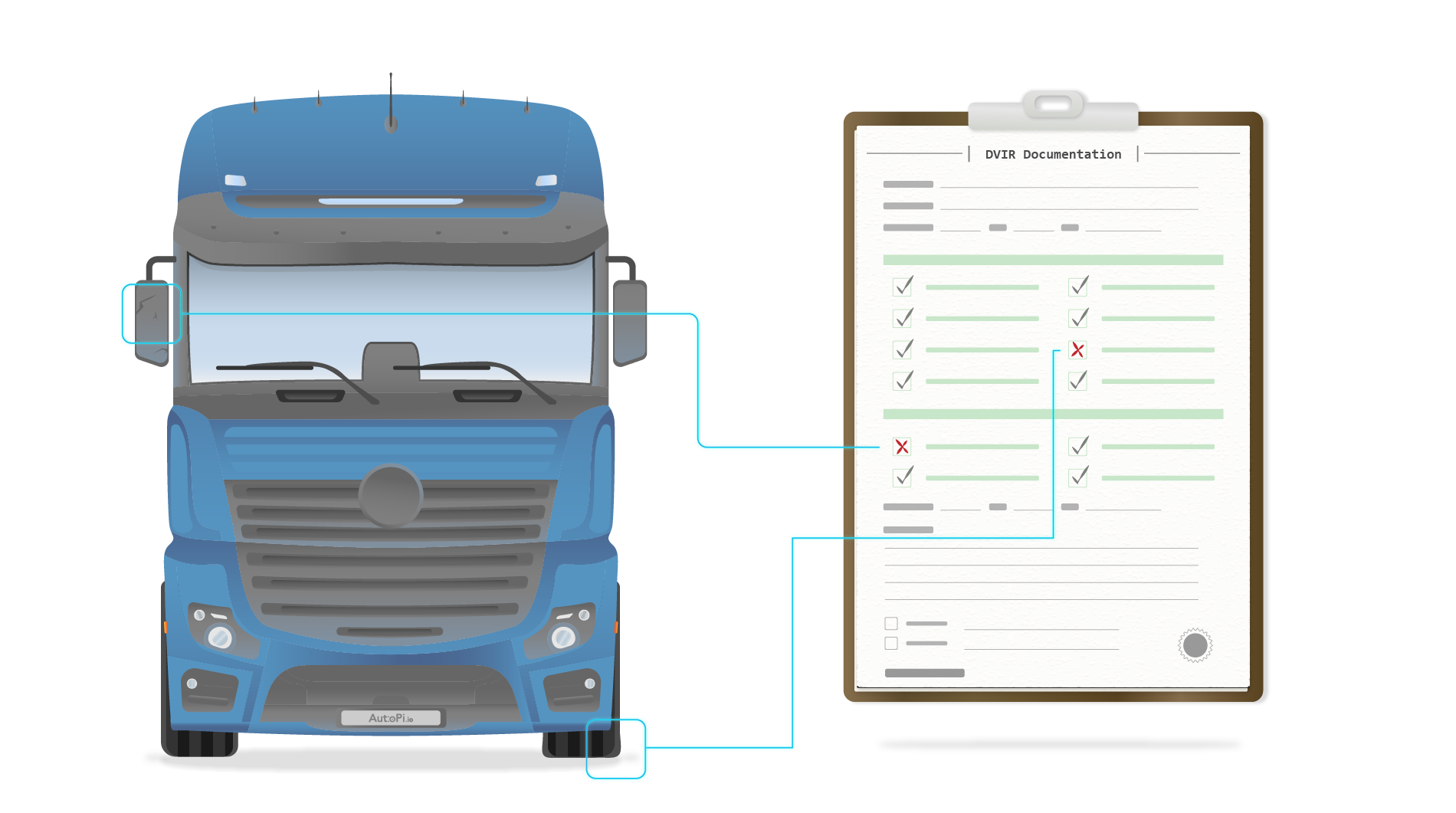 The FMCSA requires drivers to examine particular vehicle parts and accessories before and after each journey and to document any faults or deficiencies discovered during the inspection.
Read: Driver management system
The DVIR is a straightforward document that comprises a checklist of components that the driver must verify, such as the brakes, steering, tires, and lights.
If the driver notices any faults or problems during the inspection, they must record them on the form and notify their supervisor. If the problem is severe enough, the vehicle may be withdrawn from operation until the necessary repairs are done.
It is important to understand that the DVIR is more than simply a formality or administrative exercise. It is an essential part of a driver's work and contributes to the safety of all drivers on the road. The driver can spot possible faults before they become serious safety issues by undertaking regular vehicle checks.
What does a typical DVIR inspection look like?
A driver should take a walk around the car, check for possible defects or damages and then start the car to check the remaining aspects of the DVIR.

If a driver finds a defect in a vehicle, he/she must report any defect/damage that can have an impact on a vehicle's safe operation.

The driver is then obligated to sign the report and hand it to the commercial motor carrier.

Motor carriers then must repair any defect or damage on a vehicle and ensure that the vehicle is safe to use.
What are DVIRs requirements?
As mentioned, DVIR is an essential process that ensures that commercial motor vehicles are in safe operating condition.
In the United States, commercial motor vehicle drivers are required to have DVIRs. To assist guarantee that the vehicles are maintained and operated properly, the FMCSA has established regulations for DVIRs.
Here are some of the key requirements for DVIRs:

Daily Inspection: Before driving their vehicles on the road, drivers must undertake a pre-trip inspection, followed by a post-trip inspection. These checks must be carried out every day.

Inspection Items: The FMCSA requires that drivers inspect specific parts and accessories of their vehicles before and after every trip. Brakes, steering, tires, lighting, coupling devices, and emergency equipment are among the examination components.

Record Keeping: Drivers must fill out a DVIR form with a written report of their inspection, indicating any faults or deficiencies detected during the inspection. Even if none are discovered, the driver must nevertheless sign the DVIR with a "no faults" or "no deficiencies" declaration. To confirm that the inspection was completed, the driver must sign and date the DVIR.

Reporting Faults: If faults or deficiencies are discovered during the inspection, the driver must notify their motor carrier or its designated agent. To acknowledge receipt of the report, the motor carrier or its agent must sign and date the DVIR, and take necessary action to correct the faults or deficiencies. If a vehicle is declared unsafe to operate, it must be removed from service until the necessary repairs are completed.

Retention of DVIRs: DVIRs must be kept by the motor carrier for at least three months after the inspection date. The driver must also keep a copy of the DVIR in their records for at least six months after the inspection.
The DVIR report can be completed either on paper or electronically. The electric version of the report (eDVIR) is more efficient when gathering vehicle data, especially for those who can take advantage of vehicle inspection functionality on their Electronic Logging Devices (ELDs) for further inspection.
Are there penalties for non-compliance?
The non-compliance with DVIR regulations will lead to fines from the Department of Transportation (DOT).
Another issue is that if the vehicle was found unsafe to drive, it is not possible to drive until repaired and will be considered Out of Service (OOS).
On top of that, the carrier's CSA score could be affected and lead to a loss of a good reputation.
How can AutoPi help?
Having an AutoPi telematics unit in fleet management can help prevent any future penalties or fines. Simply connect the AutoPi TMU device to the OBD 2 port and start monitoring the current 'health' of your vehicle or fleet.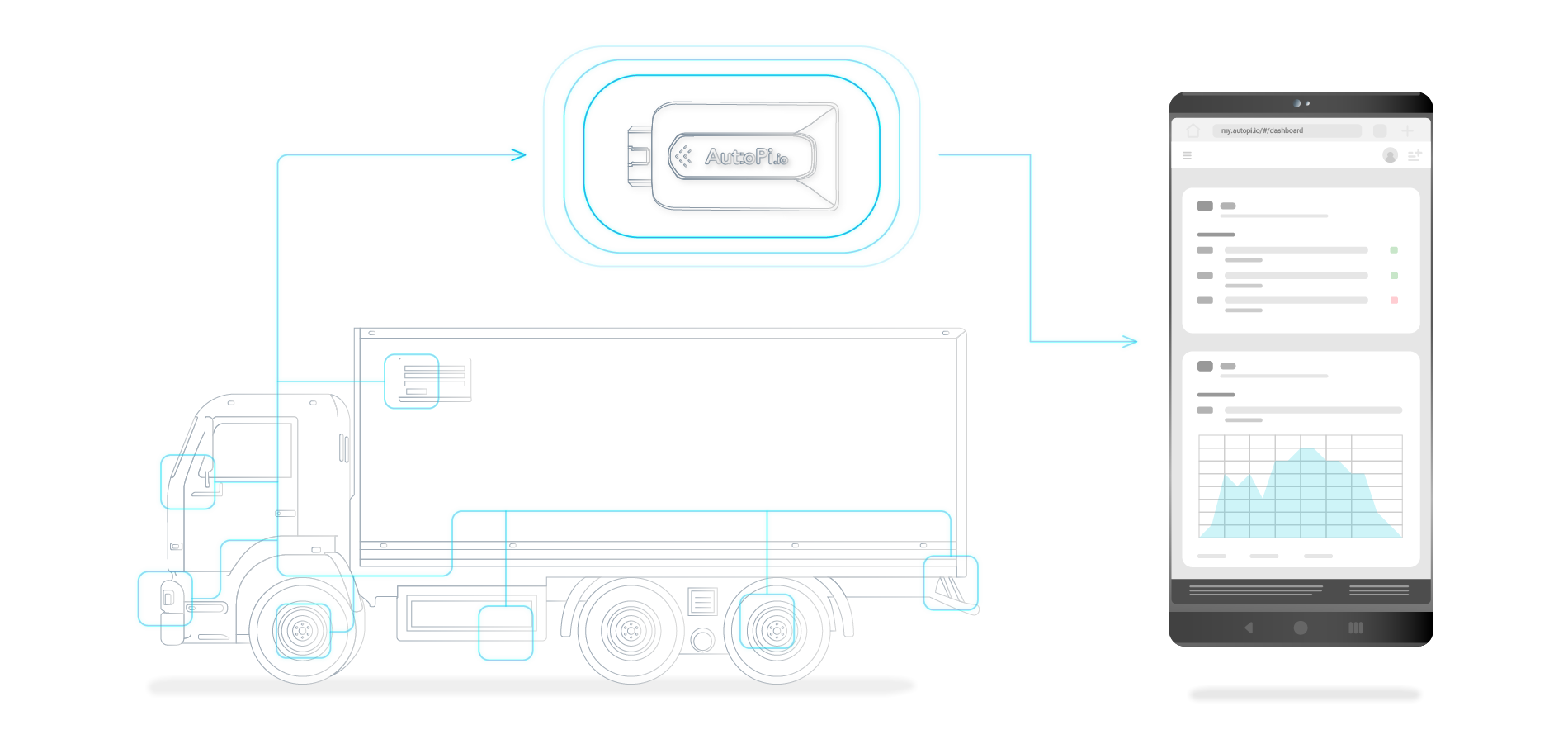 You can monitor the data through your smartphone or laptop and it's very easy to use with the AutoPi server. Contact us for more details or check out our latest Telematics Unit to find out more.
---
We honestly hope you found the information you were looking for. If not, do not hesitate to get in touch with us.