DoIP stands for Diagnostics over Internet Protocol and it facilitates the use of automotive diagnostic services exposed through UDS over TCP/IP on an Ethernet network.
Compared to conventional CAN based diagnostics, DoIP allows for much faster data transfer rates at a low hardware cost. This makes DoIP interesting for today's car manufacturers.

What is UDS protocol (ISO 14229)?
According to the ISO 14229 standard, Unified Diagnostic Services (UDS) is a protocol used by diagnostic systems to communicate with electronic control units (ECUs) in vehicles.
UDS combines standards such as KWP 2000 (ISO 14230) or diagnostics on CAN (ISO 15765) and is independent of vehicle manufacturers. UDS is nowadays one of the most properly used standards for diagnostic protocols.
The Ethernet layer does not support Bus structure (like the one in CAN), which means you need to switch it for every network node. The architecture of the UDS protocol is based on the Open System Interconnection (OSI), same as in the CANopen protocol and it means that the UDS software stack has a layered architecture.
A very important function of UDS software stack to mention is that it stores fault code in the memory of ECU for every issue that happened in the vehicle and will transfer it to the client.
By doing that, you will make sure that ethernet based DoIP supports rates up to 100mbps (500kbps in CAN).
What Is Ethernet/IP?
Ethernet is a form of connecting computers together in a local area network (LAN). It has been commonly used since the 1990s and the idea behind it is that multiple computers have access to it and can send data at any time.
Remember, it's not the same as the Internet. The Internet is a communication protocol for a global network whereas Ethernet is a communication protocol for a local area network.
IP or IP address is an internet protocol address, which is an address assigned to each device connected to a computer network that uses the internet.
What Does DoIP mean?
DoIP is an acronym for Diagnostics Over Internet Protocol. DoIP protocol was introduced to enable communication between an external tester tool and electronic control units (ECUs).
In other words, remote vehicle diagnostics. DoIP requirements are determined in ISO 13400.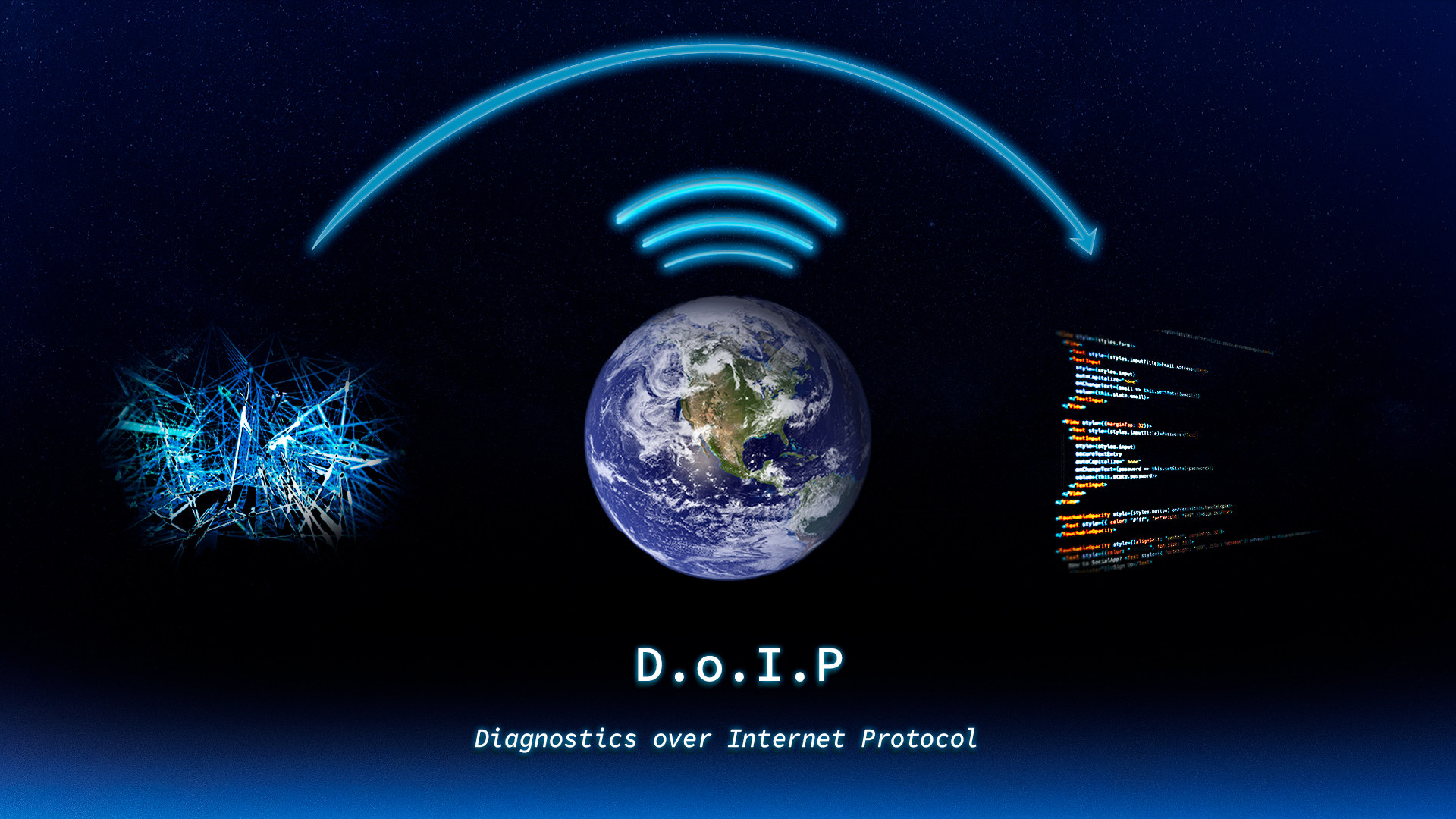 How DoIP Enables Remote Vehicle Diagnostics?
DoIP getaway enables remote vehicle diagnostics capabilities in all ECUs connected to it. It saves the cost and the effort of integrating DoIP protocol stack in every electronic control unit for car separately.
Diagnostic tester tool is being used, as it sends diagnostic requests to the vehicle through the ethernet and it receives a diagnostic response back.
Increasing connection has turned the next generation of cars into "computers on wheels. In contrast to the traditional automotive network backbone of CAN buses, Ethernet is expected to replace them in the near future.
The use of Automotive Ethernet allows for more efficient data transfer in today's connected automobiles as well as those of the future.
The difference between UDS on IP and UDS on CAN
UDS on IP (LAN/WLAN):
UDS application layer (ISO 14229-5).

DoIP transport layer (ISO 13400-2).

Ethernet physical layer (IEEE 802.3).
UDS on CAN (CAN):
UDS application layer (ISO 14229-3).

CAN transport layer (ISO 15765-2).

CAN physical layer (ISO 11898).
So ISO 14229-5 standard defines implementation of UDS on IP and ISO 14229-3 standard defines implementation of UDS on CAN.
In other words, UDS on IP is more efficient than CAN Bus in many aspects, such as greater latency time of data transmission, able to handle larger amounts of data, data format makes it less prone to error and more.
Advantages of ethernet MAC layer of DoIP stack solution:
Light weighted and simple shielded structured cable.

Low cost technology that allows high bandwidth for data communication.

Flexible communication platform.
Using the ISO 14229-5 application layer, the implementation of UDS and IP is being done. The DoIP connection can be set up to run manually or automatically after each time that vehicle is online.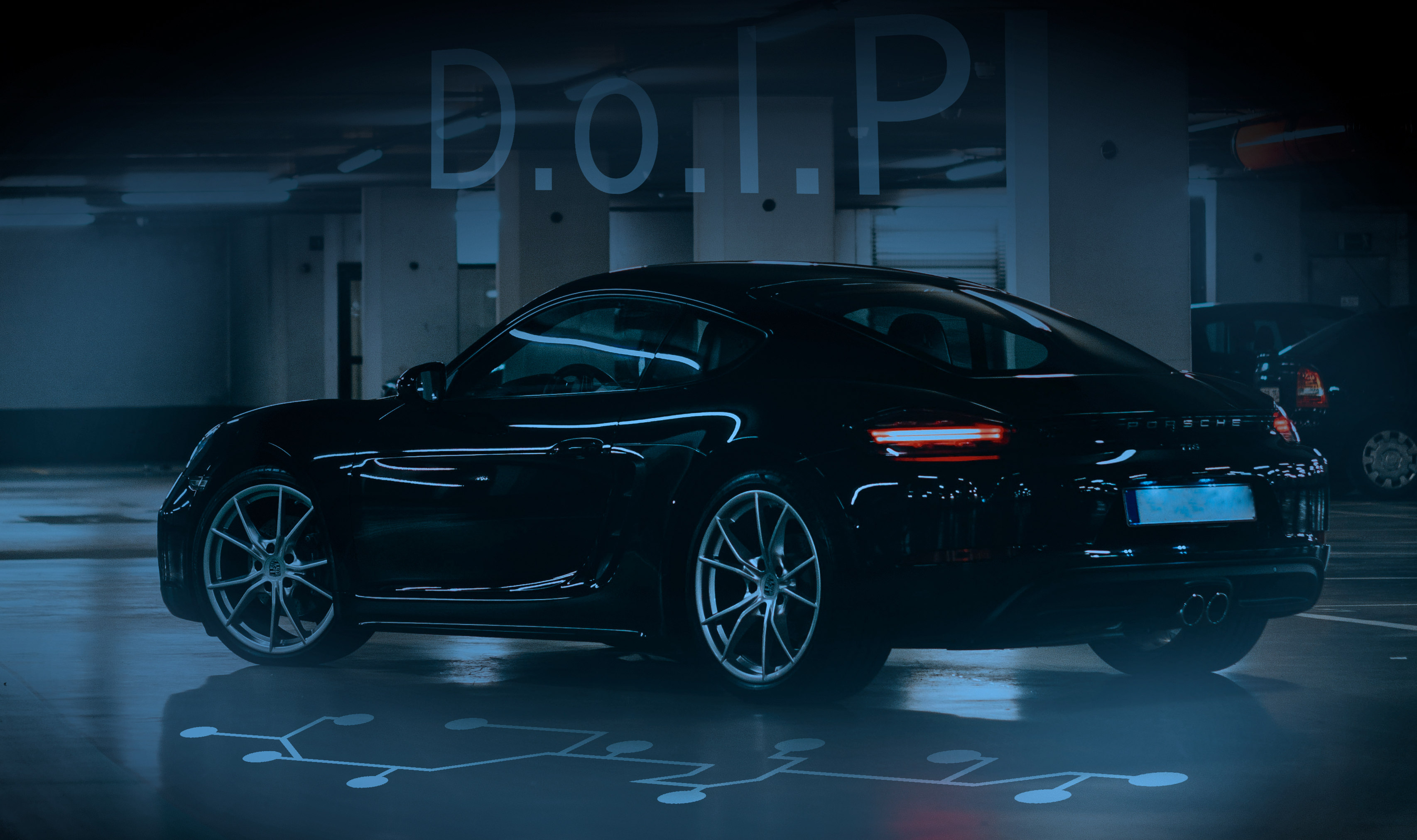 Features of ISO 13400-2:2012
ISO 13400-2:2012 determines requirements for the vehicle gateway and test equipment. ISO 13400-2 is very important for diagnostic communication and you can find it features below:
Vehicle announcement and vehicle discovery.

Vehicle network integration.

Error handling.

Vehicle basic status information retrieval.

Connection establishment.

Data routing.
ISO 13400-2:2012 might have additional optional features such as:
DoIP entity firewall capabilities.

DoIP entity status monitoring.
Next generation vehicles will enable powerful connectivity and advanced telematics services.Diagnostics over internet protocol are becoming more common and are being used more often than before.
We definitely see a big potential within the automotive industry and it might even become one of the main automotive industry trends in the upcoming years.
It is also connected to the development of the manufacturers, in the process of developing an intelligent car. It might also play a very important role in the development of IoT platforms.Due to the limited resources in embedded devices, adopting lightweight TCP/IP is necessary.
We have improved our cloud management platform and we now provide businesses with DoIP/UDS add-on. The add-on can be installed through the cloud. We suggest you to contact our sales team, in order to discuss your project and assist you with the process further, to achieve the best outcome possible.
Do you want to know how AutoPi can help and assist you with Diagnostics Over Internet Protocol? Contact us on sales@autopi.io