What is an Electronic Logbook?
An electronic logbook automatically gathers data on driver status, from previously recorded paper record of duty status (RODS).
Electronic logbooks provide reliable records for vehicle operating data and driver activities.
An electronic logging device is a tiny IoT device that is installed in the cab of a vehicle. And some gadgets are transportable and can be carried in the driver's hand.
Data gathering sensors linked to the motor parameters are examples of additional components.
The recorded vehicle and driver data can be immediately transferred to an office or saved for future use, such as timekeeping or review during a vehicle inspection.
The following information are the must record in an electronic logbooks:
Date

Time

Location

Hours on the engine

Mileage on a vehicle

Identification of the driver
What is an Electronic Logging Device (ELD)?
An ELD is an IoT hardware used to track driving time in commercial vehicles.
It connects to a vehicle's on-board diagnostics (OBD) port and collects data on the engine, location, speed, miles, and other factors.
The Federal Motor Carrier Safety Administration (FMCSA) requires that most commercial vehicles must have an ELD under the ELD requirement.
The key requirements of the ELD rule are as follows:
Commercial drivers who are obliged to prepare hours-of-service (HOS) records of duty status must utilize an ELD (RODS).

ELD performance and design requirements are established, and ELDs must be approved and registered with FMCSA.

Determines the supporting documentation drivers and carriers must retain.

Harassment of drivers based on ELD data or linked technology is prohibited (such as fleet management system ). The law also gives drivers who think they have been harassed redress.
3 Reasons Why Electronic Logbook Is Important for Your Business
1) Electronic logging devices contributes to the bottom line by lowering expenses and increasing productivity for transportation companies, by saving money and time.
The driver will be able to spend more time driving and less time filling out paperwork or waiting at inspection stations, when using an electronic logbook.
It can also decrease the need for unexpected repairs and reducing needless vehicles. Read more about how to do this here.
2) An electronic logbook enhances internal communication.
Prior to the advent of computerized logbooks, most businesses needed drivers and dispatchers to make check calls.
Effective ELD systems display a driver's location on a map, allowing the office to monitor the driver's safety and expected time of arrival without having to phone the driver.
This precise position data also aids in disputing allegations from shippers and receivers that a driver was delayed when they were not.
3) Electronic logging may help fleet businesses increase efficiency and profitability in the following ways:
Automatically capture data, saving hours of duty time spent filling out logs rather than driving. The automated data recording significantly decrease paperwork errors.

Vehicle inspections are simplified since data is presented on the device for Department of Transportation personnel to see. It can also be sent online for faster and easier processing.

Cost effective in terms of penalties and potential decrease in insurance rates, by automatically monitor hours of service (HOS) and driver notifications before these hours are exceeded, aids in the prevention of violations.

Vehicle data monitoring can help to streamline maintenance scheduling and send out trouble alerts to avoid equipment failure before it happens.
How to Use an Electronic Logbook Device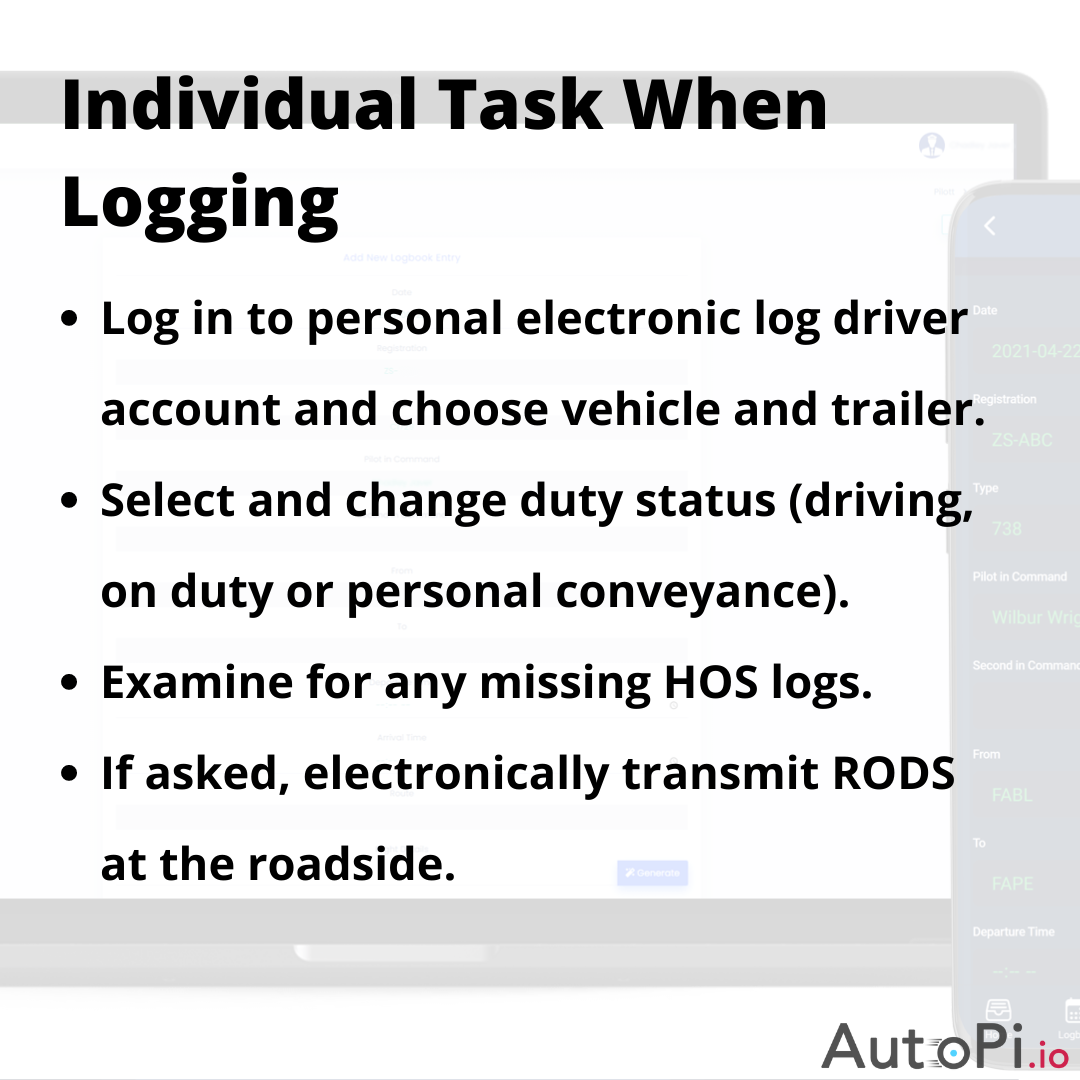 Each driver will carry out individual tasks when logging, such as:
log in to their personal electronic log driver account and choose the vehicle and trailer.

Select and change their duty status, such as driving, on duty or personal conveyance.

Examine for any missing HOS logs.

If asked, electronically transmit RODS at the roadside.
Every driver is accountable for maintaining an electronic record for their hours of service.
An ELD communicates with a vehicle's engine to automatically record driving time, making hours of service (HOS) tracking easier and more accurate.
The electronic logging device rule, which was enacted by Congress as part of MAP-21, is designed to assist establish a safer work environment for drivers while also making it easier and faster to collect, manage, and exchange records of duty status (RODS) data.