Internet of Things is the new hot in tech
Internet of Things (IoT) is a popular buzzword in the tech/gadget community. The concept is that all the devices in our everyday life can be online/connected to the Internet 24/7, and thereby help to improve and make our lives more efficient. This includes our light bulbs, kitchen appliances, TVs, alarm and heating systems etc. All our "things" should be able to communicate with each other and be controlled from everywhere in order to achieve a more efficient and convenient world for us to live in.
Ideas for the connected car
Why should it not also include your car? Major tech companies have already started a built-up within this field, such as Tesla, Google and Uber. But where does that leave us, who cannot afford an expensive luxury car with the latest tech gadgets or a Tesla with an autopilot?
Different attempts to solve this have been made earlier. Most attempts have been made using the OBD port of the car, and thus reading out telematics from the CAN bus of the car. Common for all these previous systems is that their platform was locked for modifications and alterations by the users.
This puzzled us and we decided to try to build our own system. We wanted a system that everybody could change, update and modify to their likings. We wanted a system that was always online and available. We did not want a system that was dependent on an internet connection through a mobile phone. We wanted a true IoT platform in the car.
Our requirements were:
Online even when friends or family members use the car
Not dependent on a mobile phone
Open for programmable changes
But also configurable without programming experience
Extensible with external systems
Built on a well known hardware platform
An IoT platform built on the Raspberry Pi Zero
We quickly realized that the products from The Raspberry Foundation was very suitable for our project. We ended up deciding to use the Raspberry Pi Zero as the heart of our hardware dongle. The Raspberry Pi is a widely used, affordable and proven micro computer. It runs a high-level operation system and has a large backing community.
We decided to build a HAT (Hardware Attached on Top) for the Raspberry Pi Zero, containing the needed IOs.
We included:
4G LTE modem
USB connectors
OBD connection to the car
Accelerometer
GPS + A-GPS
Bluetooth
Wireless LAN
Speaker
HDMI port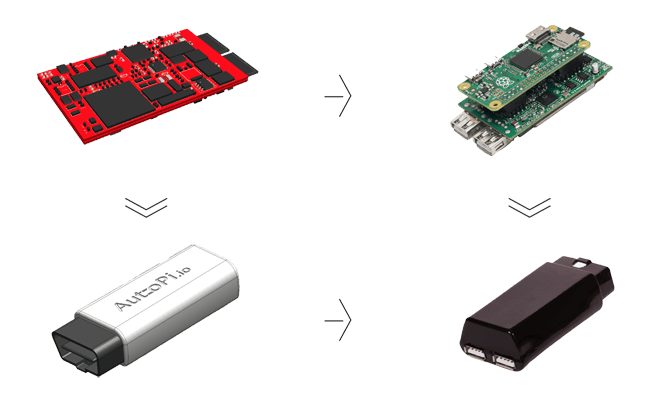 The journey from concept to product of the AutoPi dongle
A more comprehensive description of the AutoPi Dongle can be seen
HERE
A software platform built for IoT
We created a hardware platform that matched our initial requirements, but our vision was not complete. We wanted to connect our car and hardware dongle to an IoT software platform, from where we could easily manage and update the entire system. We wanted the platform to include a fully customizable dashboard, where each user could set up their own widgets.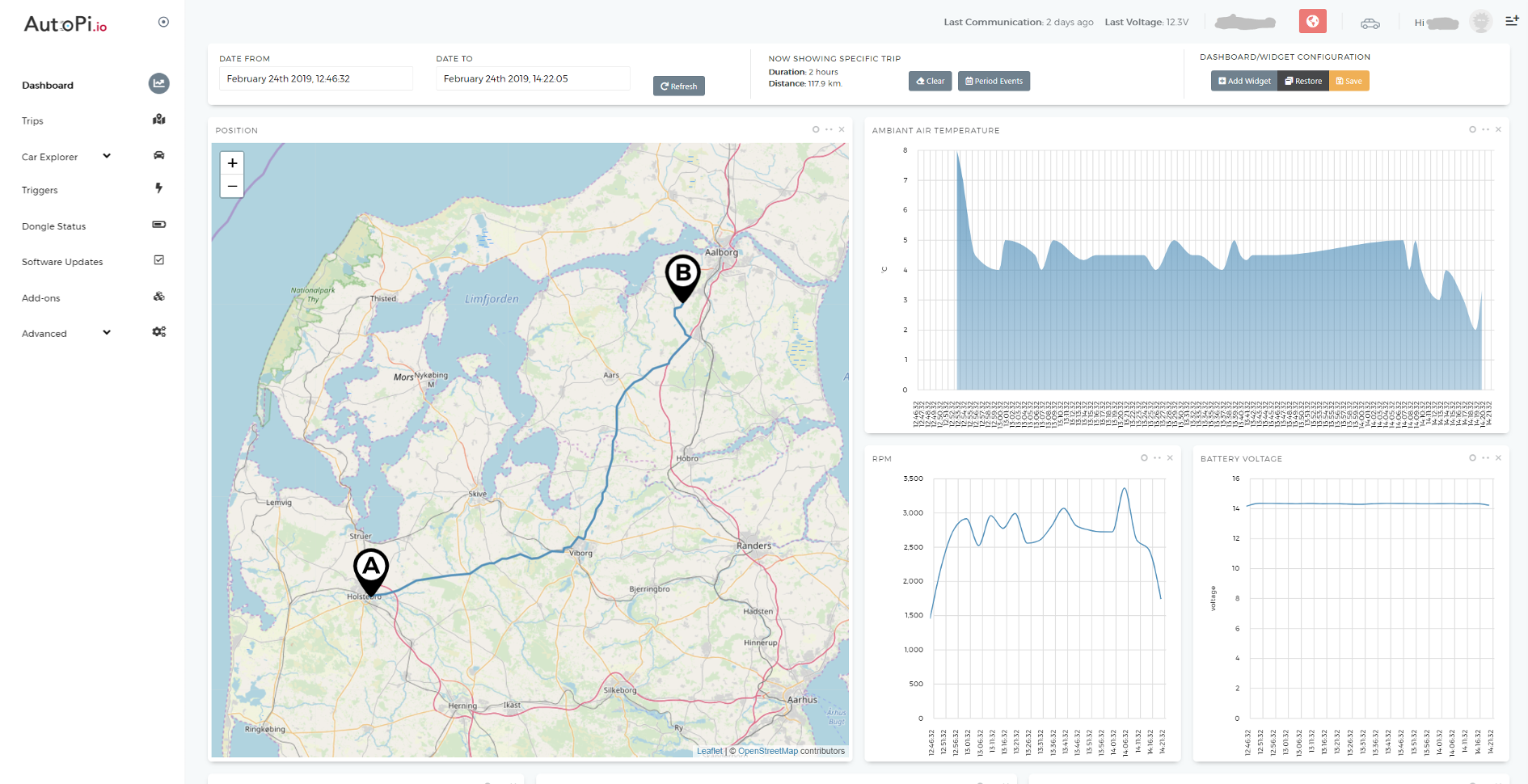 AutoPi Dashboard
We wanted it to be easy to install new features from a community driven platform:

AutoPi Add-ons Library
But we wanted to make sure that the user still had full possibility to interact, configure and program their Raspberry Pi and car directly from our IoT Platform: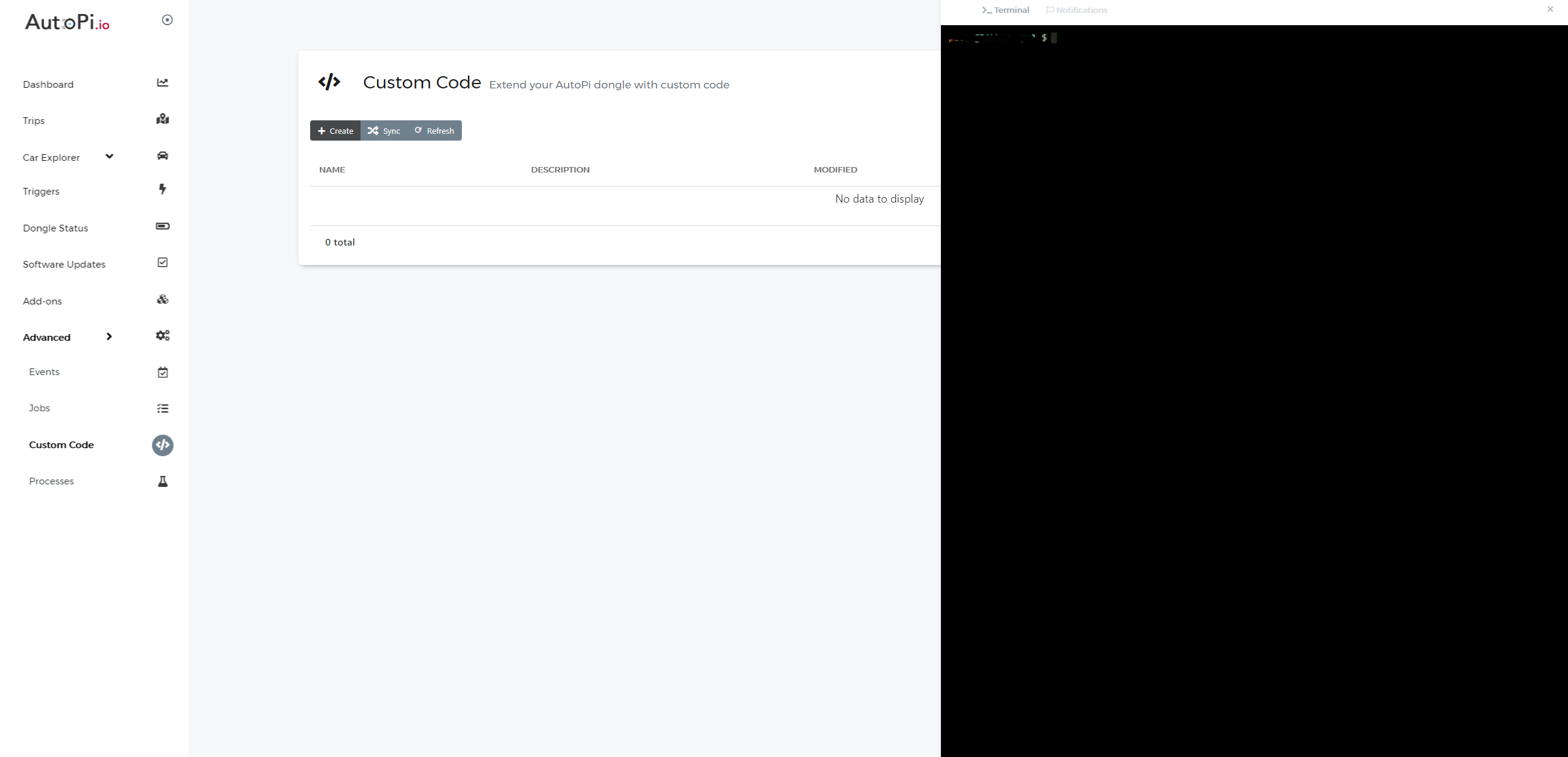 AutoPi Module Configuration and Termnial
A more detailed overview of the AutoPi IoT platform can be seen HERE
We ended up with an open and versatile system with some unique key features:
The AutoPi is not dependent on a connection to a mobile phone and is therefor online no matter who is driving the car
Advanced code modules can be programmed, uploaded and tested directly from the built-in editor.
Dashboard, triggers and add-ons are available for easy configuration and does not require programming experience.
With built-in WiFi, Bluetooth and USB it is easy to extend the system with other subsystems and extend the possibilities of the system.
Did you like the article? AutoPi.io will soon be available on Kickstarter. Help us share this article or visit our social sites.

AutoPi.io is the first extensible IoT platform for your car, built on the Raspberry Pi.